Early Childhood Education
Highest Quality
Early Childhood
Education Initiative
In Ventura County, over 22,000 children are between ages 3 and 4, qualifying them for early childhood education (preschool). Unfortunately, approximately 12,000 of these children are unable to gain access to this vital and life-changing opportunity. Together, we can fix this!
The challenges are many, and include:
Availability of appropriate facilities located throughout the county.
Workforce Conditions: Is the system capable of hiring a relatively large number of qualified teachers, trainers and other specialists? 
Transportation for children from their homes to educational centers located throughout the county.
Administrative operations that can manage the programs from either a centralized or decentralized system.
Creation of a parental support system.
As you can see, the variety and complexity of issues currently preventing access to high quality early childhood education will take all of us working together to solve. There are areas in our own community where the likelihood of undergoing adverse early childhood experiences is extremely high. We see a pattern of zip codes that have a prevalence of poverty, food insecurity, single parent households experiencing daily childcare crises, and a lack of affordable housing. These risks expose children to a 90% to 100% likelihood of one or more delays in their cognitive, language, or emotional development.
One of these zip codes is our beloved Santa Paula. Out of an estimated 968 children ages 3 and 4 living in Santa Paula, 773 have either federal or state income eligibility for preschool. Furthermore, the remaining 195 may still qualify for subsidized preschool. Unfortunately, about half of these entitlement dollars are not being accessed. Working together, we can solve this too!
Santa Paula is a prime example for demonstrating how establishment of a high-quality early childhood education system can be paid through the existing government preschooling entitlements, combined with philanthropy. We believe that Santa Paula is uniquely positioned to be the first community in California where 100% of all children have access to full-time, highest quality early childhood education opportunities, and that this pilot program will be the first phase of a larger effort so that all children in Ventura County are able to access the most effective and promising anti-poverty strategy – education! 
Your community foundation is going all in to ensure the earliest possible interventions to help young children grow and thrive and to build strong, nurturing families.
What is the Isabella Project?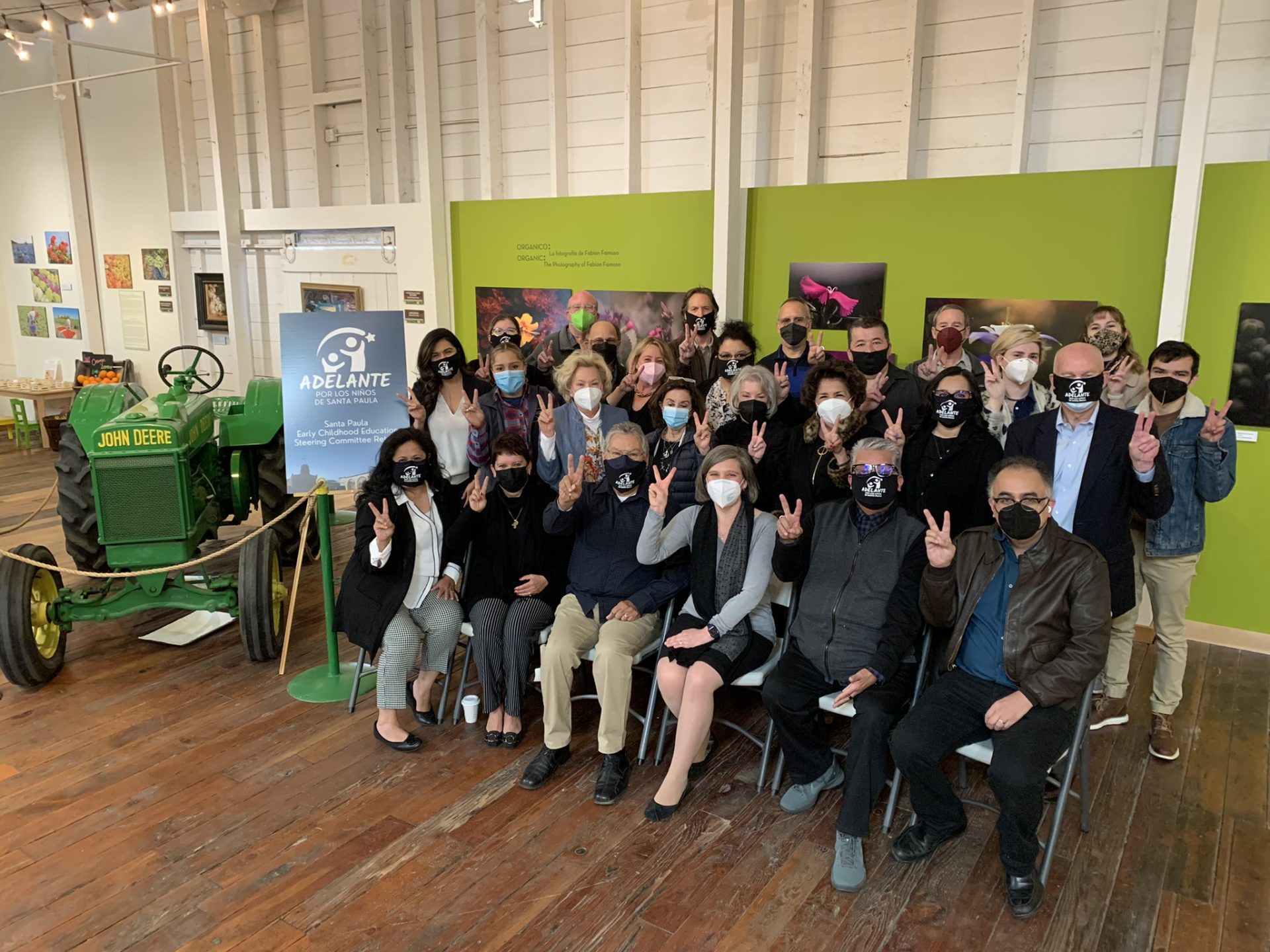 The "Isabella Project" is the name of the pilot project to make highest quality early childhood education available 100% of 3- to 4-year-olds in Santa Paula. This group is comprised of over 80 community partners from across Ventura County and sectors ranging from higher education to childcare to mental healthcare and more. The project is planned to act as a model for creating a network of wrap-around care through pre-existing and new providers through the city that can be replicated in cities across the county.
If you are interested in joining the Isabella Project, please email info@vccf.org.
Isabella Project Newsletter
The Isabella Project newsletter provides updates on the awesome work of the Santa Paula Early Childhood Education Steering Committee, as well as community and policy updates regarding local education. For anyone passionate about lifting up our youngest community members, learning more about the latest developments in highest quality early childhood education, or seeing how you can become involved with our steering committee, we encourage you to subscribe to our Isabella Project newsletter! Please contact Lauren Graf at lgraf@vccf.org.
Isabella Project Lunch & Learns
Join us for our Isabella Project Lunch & Learns, featuring guest speakers from the Isabella Project Steering Committee. These calls are available to all community members to hear about the awesome work happening in Santa Paula to promote highest quality early childhood education.
Past Recordings
Parent Ambassador Program with Stacy Miller and Eva Brune (Stacy Miller Public Affairs), September 20, 2023 – View Recording | Audio En Español
Youth & Homelessness with Kay Wilson-Bolton (Spirit of Santa Paula) and Maria Jimenez (Poder Popular), August 17, 2023 – View Recording | Audio En Español
Child Development Resources with Jack Hinojosa, July 19, 2023 – View Recording | Audio en Español
Esperanza Project with Elvia Hernandez, June 21, 2023 – View Recording | Audio en Español
Santa Paula Social Services Coalition with Anna Casillas and Sylvia Alvarado, May 17, 2023 – View Recording
Santa Paula Unified School District Strategic Plan with Jeffrey Weinstein, Tim Smith, and Dr. David Moore, Mar 15, 2023 – View Recording | Audio en Español
Economic Development & Childcare with Bruce Stenslie & Laura Espinoza, Feb 8, 2023 – View Recording | Audio en Español
"The idea of "children are the future" is not a cliché. It is one of the most potent arguments for creating a better tomorrow for all. The skill sets young children need to develop as they mature to create a good life, become productive, healthy, emotionally balanced and socially engaged are increasingly becoming a multifaceted subject." – Jamshid Damooei, Ph.D.
"What to know as transitional kindergarten expands," Ventura County Star
"Early Childhood Education and Care (ECEC) in Denmark," Ditte Alexandra Winther-Lindqvist & Lone Svinth
"A state-funded pre-K program led to 'significantly negative effects' for kids in Tennessee," The Hechinger Report
"Equitable Early Care and Education – An Alignment Framework," National League of Cities
"San Mateo County child care industry recovering," The Daily Journal
"State of Child Care during COVID-19," Child Development Resources
"The 2022 California Children's Report Card," Children Now
"The Challenge of Making Universal Prekindergarten a Reality in New York State," Citizens Budget Commission
"Your Livable Community Newsletter – What About the Kids?" Ventura County Civic Alliance
"A state-funded pre-K program led to 'significantly negative effects' for kids in Tennessee," The Hechinger Report
"Equitable Early Care and Education – An Alignment Framework," National League of Cities
"San Mateo County child care industry recovering," The Daily Journal
"State of Child Care during COVID-19," Child Development Resources
"The 2022 California Children's Report Card," Children Now
"The Challenge of Making Universal Prekindergarten a Reality in New York State," Citizens Budget Commission
"Your Livable Community Newsletter – What About the Kids?" Ventura County Civic Alliance
"Early Childhood Education and Care (ECEC) in Denmark," Ditte Alexandra Winther-Lindqvist & Lone Svinth
"What to know as transitional kindergarten expands," Isaiah Murtaugh, Ventura County Star
"'It's been a disaster': Post-pandemic test scores erased decades of progress" Tony Biasotti, Ventura County Star