Isabella Project Newsletter — July 12, 2022 (EN/ESP)
Dear Santa Paula Highest Quality Early Childhood Education Steering Committee,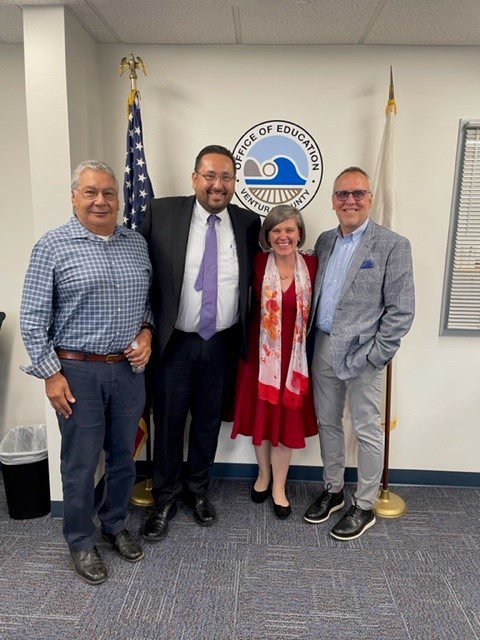 Isabella is five months old now and is beyond adorable!! We continue to be inspired by this sweet, precious little girl to ensure that all children in our community have access to highest-quality early childhood education.
Since we last connected, we've received close to $2 million in grant requests from the Santa Paula Steering Committee member organizations to remove key barriers that stand in the way of families accessing any early childhood education opportunities, let alone a high-quality program.
The proposals for funding range from outreach to families, to internship opportunities for prospective teachers, childcare services, infrastructure investment in the public school system, and more. It is motivating to see the creativity and solutions-oriented requests, and at the same time, to recognize that more collaboration between members will be vital for the proposals to reach their full impact and best serve the families in Santa Paula.
This is why we are so looking forward to the August 16 meeting at the Santa Paula Depot, which we believe will be critical for helping us best prioritize the funding requests together. In the meantime, we are hard at work to raise as much money as possible for this first round of grantmaking and will definitely keep you posted. Please keep your fingers crossed!
We are also working to secure funding for consulting support, asset mapping, and systems design by a highly regarded firm, whose founder's book, Impact Networks, is just fabulous! If you are interested in receiving a copy of David Ehrlichman's book, please let Robin Bissett know at rbissett@vccf.org, and we will happily order you one for your reading pleasure (available exclusively for committee members).
Lastly, we have submitted the final grant request for three years of funding for a fulltime, bilingual Project Manager, and will definitely keep you posted the moment that we receive news. We know this position is vital to the success of the entire countywide effort, and will dramatically help advance our collective efforts in Santa Paula as well.
As Robin Wall Kimmer wrote in Braiding Sweetgrass,
"What happens to one happens to us all.
We can starve together or feast together;
All flourishing is mutual."
We are committed and we know we can do hard things together. Let us keep doing all we can in our sub-committees to advance our mission and we really look forward to seeing you very soon!!
My best to you,
Vanessa
Vanessa Bechtel
Steering Committee Member
President & CEO, Ventura County Community Foundation
Santa Paula Unified School District Update from Co-Chair Jeff Weinstein
Santa Paula Unified School District (SPUSD) is continuing to expand its efforts to serve the families of the Santa Paula Community through their Early Childhood Education programs. The district is very happy to announce the creation of a free public preschool program for children in the district that turn 3 years old by September 2, 2022. The preschools will be located at two locations; Blanchard Elementary School and Barbara Webster Elementary School and slated to open by January 2023. The preschool will be designed to prepare children for our Kindergarten programs and offer many enrichment activities for the children to grow and experience the world of art, music, language, science, and technology. SPUSD has received state funding for 160 students and with other funding opportunities it hopes to serve a much higher number of children.
For the 2022/23 school year, SPUSD will continue to accept all children in the district that turn 4 by September 2, 2022 into its Transitional Kindergarten Classes which operate at four school locations. These locations are Glen City Elementary, Barbara Webster Elementary School, Grace Thille Elementary School, and Thelma Bedell Elementary School. Glen City Elementary School offers both traditional Transitional Kindergarten and a Dual Language Emersion Transitional Kindergarten which provides bilingual education to students in Spanish and English. In addition, SPUSD offers a full Kindergarten program at all its elementary schools for children in the district that turn 5 by September 2, 2022.
Elvia Hernandez Featured in Santa Paula Times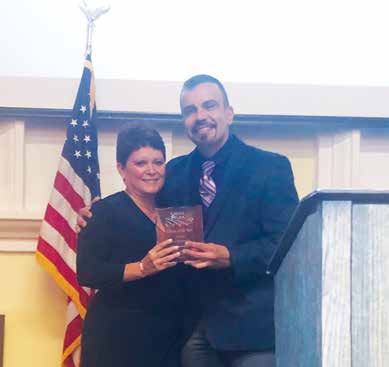 Elvia Hernandez was celebrated for her behind-the scenes activism at the May 19 Santa Paula Chamber of Commerce Awards Dinner.
Hernandez was applauded and lauded for her good works on behalf of the community, including helping provide for the physical and mental well-being of residents by linking them with social services, COVID-19 prevention/vaccination, the Census, and housing placement and rights.
Ben Suber
GIS Manager & Planner
Schmitz & Associates
Dr. Charles Weis
Interim Dean for the School of Education
California State University, Channel Islands
Cynthia Salas Salgado
Equity Services Manager
County of Ventura
Gregory Barnes
Parks & Recreation Director
City of Santa Paula
James Mason
Community & Economic Development Director
City of Santa Paula
Dr. Kimberly Hoffmans
President
Ventura College
Kristie Akl
President & Founder
kidSTREAM
Lisa Salas Brown
Associate Superintendent
Ventura County Office of Education
Margo Byrne
President & CEO
Channel Islands YCMA
Marisa Solorzano
Interpretive Site Manager
Museum of Ventura County, Agriculture Museum
Dr. Martita Martinez-Bravo
Doctor of Clinical Psychology and Lecturer
California State University, Channel Islands
Richard LeRoy
Interim Vice President for University Advancement
California State University, Channel Islands
Ryan Grau
Executive Director
Ventura County Taxpayers Association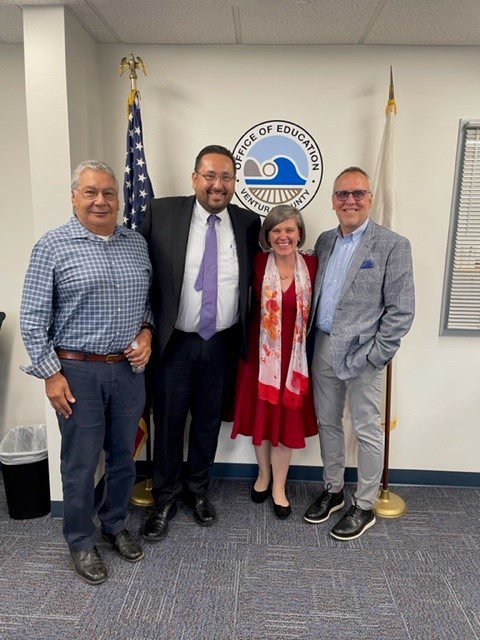 Estimado Comité Directivo para la Educación Preescolar de la Mayor Calidad en Santa Paula:
Isabella ya tiene cinco meses, y ¡¡es más que adorable!! Seguimos sintiéndonos inspirados por esta dulce y preciosa niñita, para asegurarnos que todos los niños de nuestra comunidad tienen acceso a educación preescolar de la mayor calidad.
Desde que conectamos por última vez, hemos recibido cerca de $2 millones en peticiones de ayudas de las organizaciones miembros del Comité Directivo de Santa Paula para eliminar barreras clave que impiden a las familias acceder a ninguna oportunidad de educación preescolar, y más a programas de alta calidad.
Las propuestas de financiación van desde difusión a familias a oportunidades de prácticas para futuros maestros, servicios de cuidado de niños, inversión en infraestructuras en la red de escuelas públicas, y más. Es motivador ver la creatividad y las peticiones orientadas a soluciones, y al mismo tiempo reconocer que será vital una mayor colaboración entre los miembros para que las propuestas alcancen todo su impacto y sirvan mejor a las familias de Santa Paula.
Por eso tenemos tantas ganas de que llegue la reunión del 16 de agosto en el Depósito de Santa Paula, que creemos que será fundamental para ayudarnos a priorizar mejor juntos las peticiones de financiación. Por favor, asegúrense de confirmar su asistencia hoy haciendo clic en este enlace. Mientras tanto, estamos trabajando duro para recaudar la mayor cantidad de dinero posible para esta primera ronda de concesión de ayudas, y definitivamente les mantendremos informados. Por favor, ¡mantengan cruzados los dedos!
También estamos trabajando para obtener fondos para apoyo de consultoría, mapas de activos y diseño de sistemas por parte de una empresa de gran reputación. ¡El libro escrito por su fundador, Impact Networks, es sencillamente fabuloso! Si les interesa recibir un ejemplar del libro de David Ehrlichman, por favor, háganselo saber a Robin Bissett escribiendo a rbissett@vccf.o​rg, y será para nosotros un placer pedirles uno para que disfruten con su lectura.
Por último, hemos presentado la petición final de ayuda para tres años de financiación para un Gestor de Proyectos bilingüe a tiempo completo, y definitivamente les mantendremos informados en cuanto recibamos noticias. Sabemos que este puesto es vital para el éxito de todo el esfuerzo a nivel del condado, y también ayudará enormemente al avance de nuestros esfuerzos colectivos en Santa Paula.
Como escribió Robin Wall Kimmer en Una Trenza de Hierba Sagrada,
"Lo que nos pasa a uno, nos pasa a todos".
Juntos podemos pasar hambre o disfrutar de un banquete;
Toda prosperidad es mutua."
Estamos comprometidos y sabemos que podemos hacer cosas difíciles juntos. Sigamos haciendo todo lo que podamos en nuestros subcomités para progresar en nuestra misión. ¡¡Tenemos realmente ganas de verlos muy pronto!!
Con mis mejores deseos,
Vanessa
Vanessa Bechtel
Miembro del Comité Directivo
Presidente y Directora General, Fundación Comunitaria del Condado de Ventura
Actualización sobre el Distrito Escolar Unificado de Santa Paula por parte del Copresidente, Jeff Weinstein
El Distrito Escolar Unificado de Santa Paula (SPUSD, por sus siglas en inglés) sigue ampliando sus esfuerzos para servir a las familias de la Comunidad de Santa Paula mediante sus programas de Educación Preescolar. El distrito tiene el gran placer de anunciar la creación de un programa preescolar público gratuito para niños del distrito que hayan cumplido los 3 años para el 2 de septiembre de 2022. Los centros preescolares se encontrarán en dos ubicaciones: Blanchard Elementary School y Barbara Webster Elementary School, y está prevista su apertura para enero de 2022. La escuela preescolar estará diseñada para preparar a los niños para nuestros programas de kinder y ofrecerá muchas actividades de enriquecimiento para que los niños crezcan y experimenten el mundo del arte, la música, el lenguaje, la ciencia y la tecnología. El SPUSD ha recibido financiación estatal para 160 estudiantes y con otras oportunidades de financiación tiene esperanza de servir a un número de niños mucho más alto.
Para el curso escolar 2022/23, el SPUSD continuará aceptando a todos los niños del distrito que hayan cumplido los 4 años para el 2 de septiembre de 2022 a sus Clases de Kinder de Transición, que operan en cuatro ubicaciones escolares: Glen City Elementary, Barbara Webster Elementary School, Grace Thille Elementary School y Thelma Bedell Elementary School. Glen City Elementary School ofrece tanto Kinder de Transición tradicional como un Kinder de Transición con Inmersión Lingüística Dual que proporciona educación bilingüe a los estudiantes en español e inglés. Además, el SPUSD ofrece un programa completo de kinder en todas sus escuelas elementales para los niños del distrito que hayan cumplido los 5 años para el 2 de septiembre de 2022.
Elvia Hernandez en el Santa Paula Times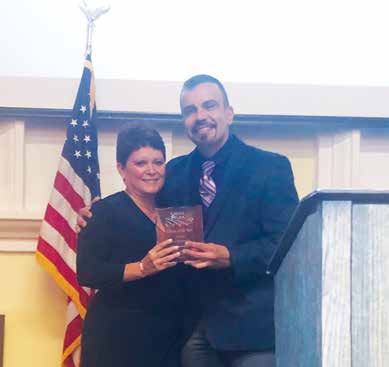 Elvia Hernandez fue felicitada por su activismo entre bastidores en la Cena de Premios de la Cámara de Comercio de Santa Paula el 19 de mayo.
Hernandez recibió aplausos y alabanzas por su buen trabajo en beneficio de la comunidad, incluyendo ayudar a cuidar del bienestar físico y mental de los residentes conectándolos a servicios sociales, prevención/vacunación contra el COVID-19, el Censo, y colocación y derechos de vivienda.