805 UndocuFund (COVID-19) to Support Local Undocumented Families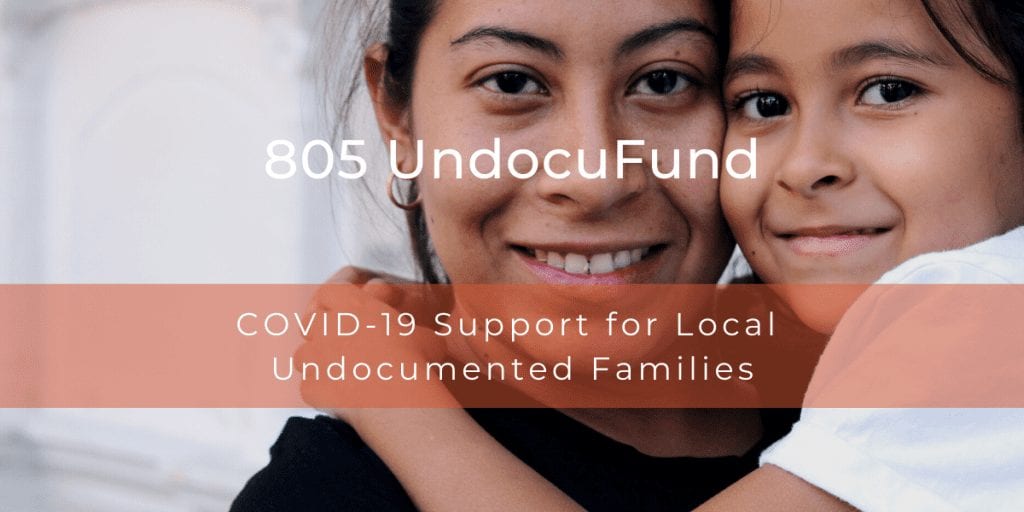 About the 805 UndocuFund
Ventura and Santa Barbara counties are home to 126,000 undocumented residents – 10% of our population. The 805 UndocuFund was launched in 2018 with the belief that during the critical recovery period following a natural disaster, undocumented residents should not be excluded from emergency relief funding made available to all other residents. The 805 UndocuFund is a joint effort of immigrant-serving organizations in Ventura and Santa Barbara Counties to provide disaster relief to local immigrant families. Direct financial assistance is to help with basic needs, such as covering the cost of childcare related to school closures, and rental assistance.
Since its launch and through three years of recovery from wildfires, deadly mudslides, and the ongoing global pandemic, the 805 UndocuFund has provided disaster relief assistance to thousands of families, which has been made possible by the tremendous and unwavering support of our community.
The 805 UndocuFund continues to operate as a collective partnership between grassroots organizations who are known and trusted widely among undocumented residents: Future Leaders of America (FLA), Mixteco Indigenous Community Organizing Project (MICOP), and Central Coast Alliance United for a Sustainable Economy (CAUSE).
100% of funds raised for the 805 UndocuFund are granted directly to families in need. The fund's director is supported through separate, dedicated funding and VCCF does not charge any administrative fees related to fund management.
To Donate
Your contributions are greatly needed during this time. Click here to donate to the 805 UndocuFund.
If you are looking for information on how to apply for funds, please visit https://805undocufund.org/.
Grants Awarded To Date
In response to the Thomas, Hill, and Woolsey wildfires of 2017-2018, over $2.5 million was distributed to 1,685 households. These funds supported families' housing and home repair costs, food, essential household supplies, health care, and post-traumatic counseling.
In March 2020, the 805 UndocuFund was reactivated in response to COVID-19, though it immediately became clear that pandemic response would bring a greatly increased level of need. Since COVID-19 began, the 805 UndocuFund has granted $4.06 million in direct assistance to 10,611 undocumented individuals in over 3,456 households, with an additional $1.4 million raised and poised for disbursement in the first quarter of 2021.