"Curiosity Never Retires" – Osher Lifelong Learning Institute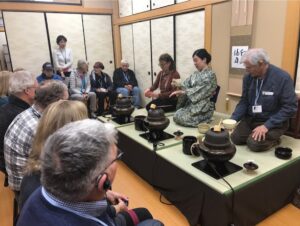 by Jerry Clifford, VCCF Donor and OLLI Educator
Are you curious about things and want to learn more about something fun and interesting? Do you like the mental stimulation of discovering something new? Do you enjoy meeting others who are also curious – to share in social interactions with like-minded friends? Welcome to OLLI.
The 96-year-old philanthropist Bernard Osher had a vision to keep senior adults mentally active and socially connected. He started the Osher Lifelong Learning Institute and provided $1 million each to 125 universities across the country to build programs that invigorate senior adults. California State University, Channel Islands was one of the first recipients.
Imagine – learning for the fun of learning. No homework, no tests and no grades! Courses in music, literature, history, economics, philosophy, science and more.
Here are a few recent courses to whet your appetite: The Living Primates, Tough Dames: Women Writing Noir, Ancient Battles That Shape Our Modern World, The British Musical Invasion, The Weather Around You, Russian Classical Music and Culture, Film Comedy in America, Brain Training, Lessons from the Bench, Fascinating Presidential Couples, Gender Fluidity in Shakespeare's England and Exotic Revival Architecture.
OLLI students also travel the world. Recent trips have gone to Egypt, Sicily and Japan, and locally to the Museum of Tolerance, Huntington Gardens, the Nixon Library, SoFi Stadium and the Getty Villa.
Classes are Monday through Friday, 10 a.m. to noon and 1 to 3 p.m., in-person or on Zoom, and recorded in case you miss a day. The courses cost $10 per 2 hour class, or less for multiple courses.
If you want more information, please visit OLLI's website.