Make-A-Wish
I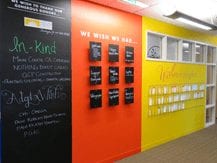 just bought my tickets to attend the Make-A-Wish event this coming Friday evening. As our newest neighbor in our building, my family has a very personal connection to the great work that they do.
You see, my husband's youngest daughter was granted her wish when she was fourteen years old – a camping trip on the pier of Santa Barbara. It is a very special memory for the family and my husband and I look at the picture taken that night often and think of Ellen.
The Make-A-Wish Foundation granted 14,800 wishes last year, about one wish every 35 minutes. The foundation aims to grant the wish of every child diagnosed with a life-threatening medical condition — touching the lives of the children and those around them, bringing them hope, strength and joy.
Wish-granting is more than just delivering a family tickets to Disneyland — each wish is an experience. It starts with two volunteer wish granters who talk to the child to discover the real wish, because sometimes even the child doesn't really know exactly what they want. The wish granters then create an unforgettable personalized experience for the children and their family, giving them first-class service and a memory to last a lifetime.
Make-A-Wish has helped more than 270,000 children see their wish come true in the past 36 years.
To learn more about the power of a wish come true, visit the Make-A-Wish website here.