Need Help? Looking to Help? Check out ThomasFireHelp.com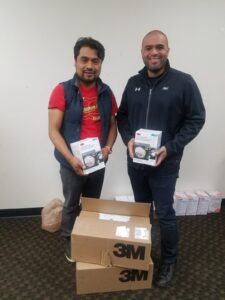 It has been so uplifting seeing the outpouring of support from those in our community in response to the damage caused by the Thomas Fire. As we hear stories of those who have lost so much, we also have heard from so many who want to help. But a lot of people don't know where to go to help—where to go to drop off donations, where to go to volunteer, or even how they should help or what help is needed.
Well, if you are one of those people who want to help or if you are looking for help, I'd like to direct you to ThomasFireHelp.com. The website, started by Emily Barany and Chris Collier, was created purely to connect the people who need help and the people who are looking to help.
The website is constantly updating with new requests for and new offers of help and support. From places to stay, to donated supplies, to monetary donations, this website lists options of where to go.
Already, the website has been helping people, such as when they directed Proctor and Gamble Oxnard's donation of 320 regulation N95 masks to Mixteco/Indigena Community Organizing Project (MICOP) (pictured left).
We know so many people and organizations are looking to find something they can do to help in the wake of this disaster. Emily and Chris created this website to facilitate the process of getting that help to the people who need it most. So if you or anyone you know is looking to help or looking for help, check out Thomas Fire Help's website or Facebook page.
Meet the creators of Thomas Fire Help
Emily Barany, owner of VISIONALITY
Emily Barany's first job out of college led to a life-changing realization: she couldn't bear to sit still! So she made a plan. In 2011 she launched VISIONALITY with a mission to help organizations dream big and a commitment to transform their dreams into reality. What's Emily's dream? She wants to be part of something BIG too – projects that are bigger than the people involved and causes that will change the world. In addition to dreaming big, Emily has a passion for all things culinary – especially sharing delicious food and complicated wine over engaging conversation. She can often be found on the beach or practicing agility with her best friend Scooter. — Visionality Website
Chris Collier, Founder/President of Rincon Strategies