Ventura County Community Foundation Welcomes New Chief Operating Officer and Chief Compliance Officer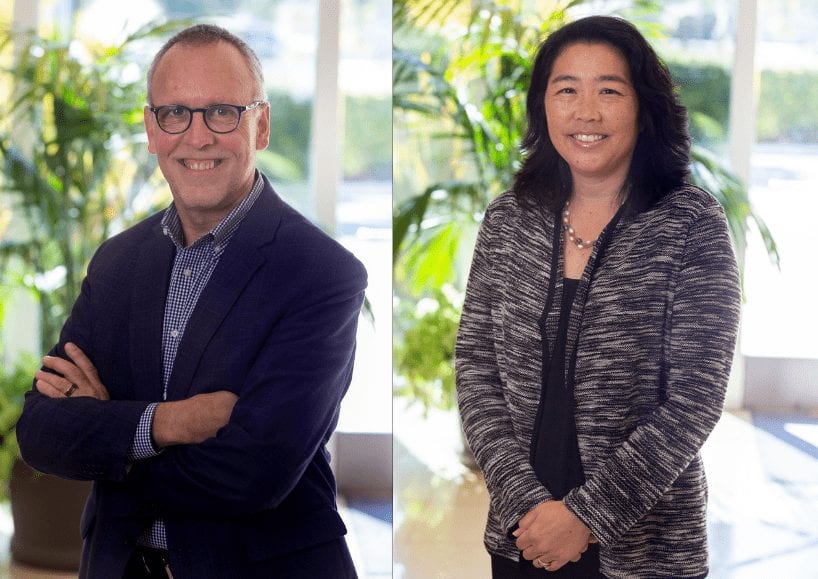 Ventura County Community Foundation (VCCF) is excited to announce that Jeffrey Lambert and Tracy Tagawa have joined the VCCF Leadership Team.
Prior to joining VCCF as Chief Operating Officer, Jeffrey Lambert served as Community Development Director for the City of Oxnard and City of Ventura. Lambert has a proven track record as a public servant throughout his career and is recognized as a Certified Planner by the American Institute of Certified Planners (AICP). He previously owned his own planning and government consulting firm, served as Community Development Director for the City of Santa Clarita, and as the Land Use Manager for Kaiser Permanente Southern California. Lambert also served on the national Board of the American Planning Association (APA) and was President of the California Chapter of APA.
Lambert graduated from the University of Southern California with a Masters in Urban Planning and previously earned his B.A. degree in Psychology and Government from Clark University in Worcester Massachusetts.
As VCCF's Chief Operating Officer (COO), Lambert will lead the development and stewardship division, program and grants department, marketing and communications, and strategic initiatives. "I am so excited to join the VCCF in its work to improve Ventura County through philanthropy and giving to our non-profits," he said.
Also joining the foundation as Chief Compliance Officer (CCO) is UC Santa Barbara alum, Tracy Tagawa. Prior to joining VCCF in September 2020, Tracy was Vice President & Regional Brokerage Supervisor for Wells Fargo Advisors, LLC for fourteen years. Her service region included cities within Santa Barbara County, Ventura County, and Los Angeles County where she worked diligently in identifying, analyzing, and reducing potential financial risks. She was also responsible for all internal and external audits within her region.
With over twenty years of experience in Risk Management, Tagawa brings a passion for developing strong community relationships while ensuring compliance and risk policies are being followed. "VCCF's dedication to partnering with the individuals and organizations within the local communities to help others is truly inspiring. I am thrilled to join VCCF and proud to be a part of this high-character and devoted team," said Tagawa. In her role as the foundation's Chief Compliance Officer, Tagawa's responsibilities include the oversight of the VCCF Corporate Compliance Program and the adherence of VCCF's fiduciary responsibilities with its clients and future fundholders.
Vanessa Bechtel, President and CEO of Ventura County Community Foundation, said, "We are just delighted to welcome Jeffery and Tracy to the VCCF team. I strongly believe that their collective experience and proven track records of leadership will be instrumental growing philanthropy in our region, especially critical during this challenging time of COVID-19."