Power of Purpose – June 24, 2020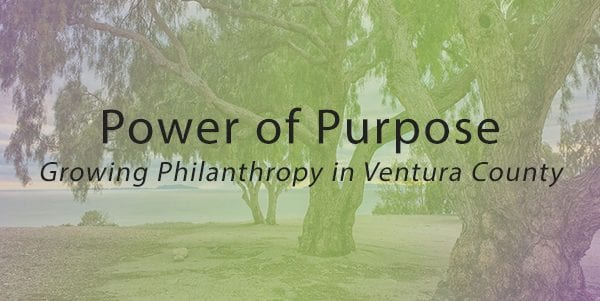 Ventura County Rapid Response Fund:
COVID-19 Business Assistance Grants Program
The Ventura County Rapid Response COVID-19 Business Assistance Grants Program, developed by the County of Ventura in consultation with the Economic Development Collaborative, Women's Economic Ventures, and the Ventura County Community Foundation will provide vital grant funding to local businesses and nonprofit organizations. We are also grateful for additional grant support by the City of Camarillo and the City of Moorpark.
The application goes live today, Wednesday, June 24, 2020 at 9:00 a.m. and will close on Wednesday, July 8, 2020 at 11:59 p.m.
We are offering daily Virtual Convenings and Office Hours to answer all of your questions pertaining to the Business Assistance Grants.
Upcoming sessions:
Business Assistance Grants Virtual Convening (1,2,3)
Office Hours – Business Assistance Grants Q&A
The Problem with "Color-Blind" Philanthropy
For too long, philanthropists have taken a "color-blind" approach to grantmaking. Even when grounded in a well-meaning attempt at equity, ignoring the implications of race on the work they fund has only served to disadvantage people of color.
Consider the fight against teen smoking in the U.S. There have been impressive declines overall, with philanthropy playing a pivotal role. However, when disaggregated by race, the data tells a different story. While African American teens actually smoke at much lower rates than white teens, by the time they are adults the rates are about the same — with tragic results. African Americans die at much higher rates from smoking-related illness. However, the majority of prevention programs and policy have targeted teens, thus missing the adult window when African Americans typically start to smoke….
Kyoko Town Jewelry Fundraiser – 805 UNDOCUFund
Another amazing philanthropic story from our community. Local jewelry design and owner of Kyoko Town, Laura Kyoko Wooster Dorfman, recently raised over $1200 to donate to the 805 UndocuFund – COVID-19. Thank you Laura for your incredibly generosity!
"The Coronavirus has turned our world upside down. Many are worried about their jobs, health, family, friends, businesses, and more. Many of those worried are also undocumented which means they can't get stimulus checks or benefit from many relief efforts. These people are tax-payers, hard workers, parents, neighbors, family, and friends. All proceeds from the sale of this necklace will be donated to 805 UndocuFund – COVID-19 to help them in their relief efforts.
Santa Barbara has more than 25,000 undocumented neighbors, many of who are the heart of this town. This necklace is for them."
Cigna Foundation Funding Opportunity
The Cigna Foundation is excited to announce a new grant application opened on June 1, 2020. As part of our next phase of the Healthier Kids For Our FutureSM initiative, $5 million in grants from the Cigna Foundation are now available to nonprofits working to address the health and wellbeing of children.
Nonprofits in the U.S. may apply for grants through Sept. 30, 2020 to further their work supporting children in two areas – food insecurity and mental/ emotional health. Our first-year focus on food insecurity continues to be a priority of the Healthier Kids For Our Future initiative, and in fact, these grants are still open; the additional availability of mental health grants supplements the existing food-related funding.
As a health service company, Cigna is focused on preventive care. Food is fuel for our bodies and forms the foundation of preventive care – and we also understand the powerful connection between the body and mind. The coronavirus pandemic is straining food banks and school meal programs, and is shedding light on a worsening mental health crisis among children and adults.
Now is the time to act. Please go to www.healthierkidsforourfuture.com to access the grant application.
New!

Self-Care in the Nonprofit Sector


A New Video Series from Leading From Within

Our friends at Leading From Within teach leaders about the importance of taking care – not only for the sake of their organizations, agencies, staff, and services – but more importantly for themselves. We must learn how to best meet our own needs before we are able to care for the needs of others. This week, Ken Saxon explores how to determine what practices make you happiest and healthiest.
Self-Care: Experiments
This week's video explores self-care experiments. If you missed their Introduction or our Boundaries episodes, click here.
After watching the video, take a moment to reflect:
What experiment might you try with a new routine, and why?
Give it a few weeks, track your progress, and see how you can build a better life and a better you.
Good News from YOUR Ventura County Community
As we continue to shelter-in-place together, we want to brighten your week by sharing some of the inspirational work that you make possible.
The following stories come from our Nonprofit Partners who are able to continue their vital work because they have received support from people like you. We will continue to share these impactful updates each week from our partners who are truly making a difference during these challenging times.
Economic Development Collaborative (EDC)
Click the video above to watch an update from EDC's Clare Briglio, Communications and Business Disruption Resource Director.
The Economic Development Collaborative provides a pathway to business growth and economic prosperity for approximately 900 businesses in Ventura and Santa Barbara County each year. EDC serves the collective interest of growing the regional economy by supporting community leaders, economic partners, business owners and the local workforce with direct technical assistance and training at no-cost. During this unprecedented moment, EDC has engaged with over 2,500 employers, self-employed individuals and employees in an effort to clarify local, state and federal resources available due to the economic impact of COVID19.
Resources and access to no-cost consulting can be found our website www.edcollaborative.com or by calling 805.409.9159.
Women's Economic Ventures (WEV)
Ventura county business woman credits Women's Economic Ventures
"I'm so grateful to Women's Economic Ventures (WEV) for believing in my dream. Coming from an immigrant working class family, I never knew anyone who owned a business.
Although my heart was determined to serve my community, I just didn't know how. WEV believed in Semillas and gave me the foundation to create what I dreamed of for over a decade. I'm so proud to be a WEV graduate and #mompreneur."
Pati Cortez Washington, Owner of Semillas Counseling & Wellness in Oxnard
Our friends at Ventura County Credit Union usually support a variety of nonprofit events every year. Due to COVID-19, social distancing and event cancellations VCCU made an incredible donation to the Ventura County Community Foundation's Rapid Response Fund so that the money could be distributed to nonprofits responding to COVID-19. We thank you from the bottom of hearts for supporting your communities nonprofits, VCCU!

VCCF recently received a donation for the Rapid Response Fund from funds raised by the Hillcrest Arts Online Live Donation Campaign. Their goal is to help keep live performing arts alive and also contribute to the real local needs of the pandemic. Our deepest thanks and appreciation to Conejo Recreation & Park District and the Arts Council of the Conejo Valley for being philanthropic first responders and for their service to our community!