Power of Purpose – August 13, 2020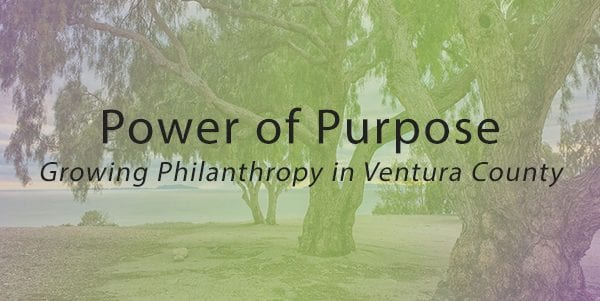 A Letter from Our President & CEO
Today, I'm marveling at the community-wide leadership I've witnessed in response to the threat of an undercount in Ventura County for the 2020 Census (please scroll down to learn more).
We truly believe that the reason Ventura County is exceeding in both the national and statewide averages for an accurate count is because of the tremendous involvement of hundreds of volunteers, including so many of you!
As you will read below, there is still urgent work to be done! Unfortunately, last week we learned some troubling news that the timeframe for getting an accurate count in our community has been moved up from October 31 to September 30. We now only have a few weeks left to reach roughly 55,000 families, or 250,000 people, who have not yet been counted.
Three things you can do right now:
Tell everyone you know about the 2020 Census and why it is important
Be a mythbuster – all people count
Spread the word on social media – follow us on Facebook and Instagram
And, most importantly: Be counted! Visit www.2020census.gov and respond today.
On behalf of all the members of the 2020 Census Ventura County Complete Count Committee, we thank you!
Best,
Vanessa
Be Counted, Ventura County!
The Census Count Ends September 30, 2020
Our very own Vanessa Bechtel was recently interviewed by the Ventura County Star regarding the shortened Census timeline and new efforts to ensure a complete count. You can read the article here.
Ventura County Rapid Response Fund
New Grant Awarded
Cabrillo Economic Development Corporation – $20,000 – For financial support for individuals and families; school supplies and snacks for children; cleaning and sanitation products.
Conejo Community Outreach – $5,000 – To provide diapers for the families they support.
Conejo Free Clinic – $10,000 – To provide medical tests, screenings, dental supplies, and personal protective equipment.
Community Solutions, Inc. – $2,000 – To provide PPE, food, prepaid phone cards and program materials.
FOOD Share – $19,000- To provide food and distribution supplies.
Future Leaders of America – $15,000 – To cover staffing expenses as they oversee the 805 UndocuFund.
Gold Coast Veterans Foundation – $15,008 – To cover staffing expenses as they provide outreach to veterans in Ventura County.
Habitat for Humanity – $8,750 – To cover mortgage payments for Habitat homeowners.
Harbor House – $10,000 – To provide food and rental assistance for their clients and cover motel expenses to house families.
Mercy House Living Centers – $5,000 – To cover expenses associated with staffing, supplies and client transportation for the homeless population they serve.
Project Understanding of San Buenaventura – $15,000 – To cover expenses for staffing and provide food and assistance for rent and utility bills for their clients.
Senior Concerns – $10,000 – To cover expenses for staffing and provide food, delivery of food and pharmacy orders, and telephonic and online support for the seniors they serve.
Ventura County Rescue Mission – $5,000- To provide food for the population they serve.

Key Findings & Resources: Impact of COVID-19 on Nonprofits Today
VCCF is proud to work with both Canterbury Consulting, as its Outsourced Chief Investment Officer, and Armanino LLP, as its independent public accounting firm. Recently, the two firms partnered together and released an important study on the impact of COVID-19 on nonprofits.
Please click below to read more.
AT&T Providing Affordable Internet
for Distance Learning
As California families and students prepare for distance learning, AT&T is expanding Access from its AT&T program, which provides home internet access to qualifying California households with at least one resident who receives Supplemental Nutrition Assistance Program (SNAP) or Supplemental Security Income (SSI) benefits for $10 a month.
More details at att.com/access or call (855) 220-5211.
Find Funding and Grantmakers from Home Using
Foundation Directory Online
Now Available Through the Remainder of 2020!
Foundation Directory Online is a research tool to help nonprofits find the grantmakers most likely to fund their projects. To help accommodate social distancing, this platform is available now through the remainder of 2020 for you to access from the comfort and safety of your own homes.
Click here to get started and check out this video for any questions.
Good News from YOUR Ventura County Community
Epic Lemonade: 805 Day – Support Local
This organization is a shining example of turning life's lemons into lemonade!
Epic Lemonade established the Epic Lemonade Fund at the Ventura County Community Foundation and continues to raise money through VCCF during this global pandemic. Through their 805 Day campaign, they are encouraging community members to support Ventura County by donating, shopping and dining local. Learn more at their website.
River Haven: A Home For the Homeless
Back in 2005, our friends at Turning Point Foundation took a group of people living along the river bottom in tents and started them on the path to turning their lives around. Our local community donated funds to enable Turning Point to purchase metal domes and offer services to assist with the transition from homelessness to hopefulness. In 2018, with generous community support, Turning Point was able to replace the worn domes with small houses.
Please enjoy the following video and hear more about the story of River Haven in Ventura County.
Nonprofit Spotlight: Cancer Support Community
VCCF is grateful to the Cancer Support Community VVSB for its hard work and commitment to supporting families struggling with cancer, especially challenging during COVID-19.
Please help spread the word on their upcoming virtual event, Celebration of Hope: At Home Affair, on Thursday, August 27 at 6:00 pm.