Power of Purpose – August 8, 2019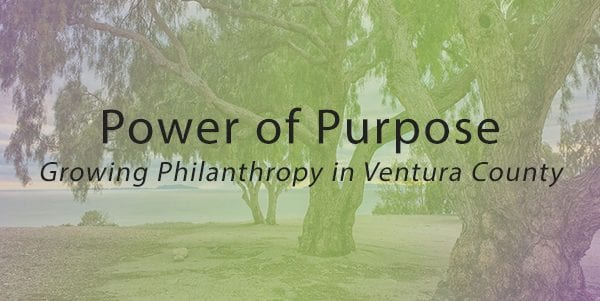 Dear VCCF Family,
In the past week, the communities of Gilroy, California, El Paso, Texas, and Dayton, Ohio have been hurt deeply by senseless violence. As a community, we are reminded of the hurt, anger, and confusion that we faced in the wake of the devastating shooting in 2018. VCCF offers our deepest condolences to their victims, families, and neighbors and hopes that they too will find strength, healing, and peace in the many trying days ahead.
I remember so vividly how you so many thousands of you immediately stepped forward to offer solace and comfort to those impacted after the Borderline shooting last year. The Gilroy Community Foundation, Paso Del Norte Community Foundation, and the Dayton Foundation are all working tirelessly to support their communities as they grapple with their loss. Please take a moment to visit or share their community foundation websites (linked above) and learn how you or others can make an impact.
As always, please let me know if you have any questions. In times like this, I find myself ever more grateful to be connected with a community like you.
Best,
Vanessa Bechtel
President & CEO
VCCF Awards $100,000 Grant to the Boys & Girls Clubs of Greater Oxnard and Port Hueneme
VCCF is proud to award $100,000 in grant funding to The Boys & Girls Clubs of Greater Oxnard and Port Hueneme. This wonderful organization helps our community's youth realize their full potential as productive, responsible, healthy and caring members of society. See all of the amazing work they are doing by visiting their website.
Local Family Donates $35,000 to Support Housing
and Education Programs
In a recent announcement, the Merewether Family Community Fund has awarded $35,000 in funding through the Ventura County Community Foundation (VCCF) to support various nonprofit organizations that focus on housing and educational services for Ventura County residents.
"Ventura County has been our home for many years and we would like give back to further affordable housing development, to support the arts and to enhance the physical and mental wellbeing of people in our community," said Loretta and Mike Merewether…
Student Awarded the Pacific Coast Business
Times Scholarship Fund at VCCF
A big thank you to the Pacific Coast Business Times for the scholarship they provide every year through VCCF to hardworking, exceptional students in Ventura County. Featured here at the 2019 Latino Business Awards with his family, Linda le Brock, Henry Dubroff, and Leah Lacayo, Kelvin Hau Canche expresses gratitude for helping support his higher education goals.
2020 Census: Ventura County – Our Most Pressing Challenge
"It is absolutely the most pressing issue facing our community right now," said Vanessa Bechtel, president and CEO of the Ventura County Community Foundation. […] Bechtel's words at a Simi Valley Chamber of Commerce luncheon on July 16 underscore how critical it is that the number of residents in the county be correctly calculated in the 2020 United States census.
Every person that's not counted is a loss of $2,000 per year for the next 10 years—literally hundreds of millions are at risk in Ventura County…
Get Involved in the 2020 Census
Join the Ventura County 2020 Complete Count Committee!
Our next Complete Count meeting will take place:
Tuesday, August 27, 2019
4001 Mission Oaks Blvd, Board Room, Camarillo, CA 93012
New Member Orientation
8:15-9 a.m.
Full Group Meeting
9-11 a.m.
Congratulations David Maron and VCCA!
We are proud to be a sponsor of this year's State of Region Report by the Ventura County Civic Alliance (VCCA). We highly recommend this wonderful resource! The Ventura County Civic Alliance is a coalition of civic leaders with a shared commitment to the three E's — the Economic, Environmental and social Equity interests of our region. This balance ensures that their research and community dialogue is embedded with a broad and diverse set of perspectives and priorities.
A Fond Farewell to Susan Seale
After seventeen years, we celebrate Susan Seale, our beloved colleague and friend, as she embarks on her retirement. I know we will all miss her terribly! Susan has made a huge difference during her time at the foundation, helping thousands of nonprofits become stronger and better prepared to fulfill their missions. She is an expert at bringing people together and her efforts have been vital as we responded to numerous disasters and tragedies these past few years.

Out of the Thomas Fire ashes has risen a coalition of Ventura County and Santa Barbara County based nonprofits who are working together to restore the miles of trail damaged by the Thomas Fire. With the support of local government agencies and the Forest Service, they have created a Thomas Fire Trail Fund in the hopes of raising $1,000,000 for the damaged trails. Ventura County Commuity Foundation is proud to be a partner in this effort.