Power of Purpose – March 31, 2020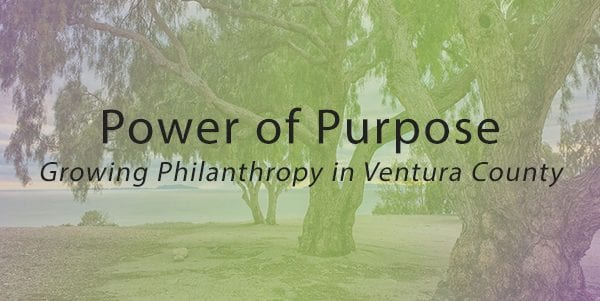 Ventura County Rapid Response Fund:
1st Round of Funding Deadline Today, March 31st
Reminder: The deadline for individuals and families applying for the 1st round of funding is today, March 31, 11:59 p.m.
Funding for individuals and families living in Ventura County will be available through the Southeast Ventura County YMCA. Please visit rapidresponsevc.org to learn more. The application for support is quick and confidential. The website is available in 200 languages based on the user's browsers language setting.
About the Rapid Response Fund
The Ventura County Community Foundation, in coordination with the County of Ventura, Amgen Foundation, Southeast Ventura County YMCA, Give An Hour, and the Economic Development Collaborative, has launched the Ventura County Rapid Response Fund to support nonprofit organizations addressing the needs of individuals and families with food and housing support, childcare, wage replacement, mental health care, and more. The fund will also go to supporting small businesses through this crisis.
Webinar Recording
We recently held a webinar to walk through the Rapid Response Fund. Watch the recording here.
Personal Protective Equipment Donations Needed for Local Hospitals, First Responders and Medical Facilities
The County of Ventura and Ventura County Operational Area Emergency Operations Center are putting out a call to the community and local businesses for Personal Protective Equipment (PPE) donations in response to the COVID-19 pandemic.
The following items are requested:
Procedure Mask with Face Shield
Isolation Gowns, All Styles
Surgical Masks, All Styles
N95 Masks, All Styles
Dacron Culture Swabs
Goggles
Tyvak Suits
805 UNDOCUFund (COVID-19) Reactivated
This 805UNDOCUFund has been reactivated in light of the serious consequences related to COVID-19 social distancing and the impacts these efforts are having on our undocumented neighbors.
This fund will be overseen by immigrant rights groups including CAUSE, MICOP, the McCune Foundation, Future Leaders of America and others with funds managed by the Ventura County Community Foundation.
Now Hiring! 805 UNDOCUFund Coordinator
The 805UndocuFund Steering Committee is currently seeking a Fund Coordinator (link to job description below) to oversee two (2) 805UndocuFund Associates, manage the application process, data, and outreach communications. The ideal candidate will be bilingual (English/Spanish) with an interest in immigrant rights.
Send Cover Letters/Resumes by April 3, 2020 to Eder@futureleadersnow.org.
Please share this opportunity with your networks!
Emotional Wellness and Mental Health Support
Give an Hour offers ongoing, no cost emotional wellness and mental health support groups using an online platform. Groups are available in both English and Spanish. These facilitated peer support services aim to address the mental health and emotional well-being needs of our community as we all deal with the stress and related fallout from the COVID-19 pandemic.
The 2020 Census is Live – Be Counted Today!
The 2020 Census is live! Here are some quick reminders:
Invitations have mailed to participate in the 2020 Census and include a unique Census ID that links to a physical address. (You can also respond online or by phone without a Census ID.)
Look out for your reminder letter in the mail if you haven't already received it.
For the first time, the Census is available online in 13 different languages!
The 2020 Census is safe, secure, and confidential. Your information and privacy are protected always.
Filling out your Census form is quick and easy. The 2020 Census questionnaire consists of 9 questions and will take 10 minutes to complete.
Webinar: Managing Transitions in a Difficult Time

Presented by Center for Nonprofit Leadership, Just Communities,
and Nonprofit Resource Network
Friday, April 3, 2020
10 a.m. – Noon
Our world is currently going through a period of unprecedented and uncharted change. How are you dealing with this change personally? How are you dealing with it as a leader? As an organization?
This interactive webinar will give nonprofit and foundation staff and board members a chance to process some of their own feelings and experiences related to realities of navigating COVID-19. Participants will leave with the beginnings of a Transition Management Plan for their organizations as well as concrete tools and well-tested strategies for helping to guide people through this challenging period.
Making Sense of COVID-19 Regulations
The National Council of Nonprofits' Analysis of S. 748
(Corona Aid, Relief, and Economic Security Act)
LightGabler's Analysis of COVID-19
Families First Coronavirus Response Act