Power of Purpose – April 23, 2020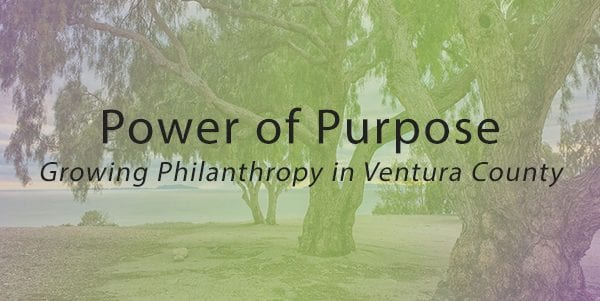 A Letter from our President & CEO
Dear Ventura County Community Foundation Family,
You have been on my mind these past two weeks since we last connected together. I hope you are safe and healthy, and I want to personally thank each of you for all that you have been doing to support one another and your community during this very challenging time.
Two weeks ago, I shared with you the news about the $500,000+ in grants that you had helped make possible in response to COVID-19 relief efforts. At the time, we had just awarded the very last dollar from the Ventura County Rapid Response Fund and the 805 UndocuFund COVID-19 Fund had received close to 5,000 applications from families in our region (more than 1,000 additional applications have come in since that time!).
Unsurprisingly, you leapt into action and offered new support and financial assistance, and now, because of you, we are able to announce an additional $391,000 in new grants to local nonprofit organizations! Please see new grants awarded below.
We also are profoundly grateful that because of you, the 805 UndocuFund COVID-19 Fund has been able to start awarding funding to deserving families, with more than $820,000 raised to-date. We are working to raise several more million in funding to help all qualified families and we really appreciate all you have been doing to spread the word.
There is still much to be done, and I promise you that we will not stop raising the vital funding needed during this time, but I hope you will join me for just a moment as we celebrate the power we collectively have to meaningfully and rapidly support our community in the most difficult of circumstances.
You are a part of a family of thousands that continually step forward again and again to be of service to one another. Ventura County is a resilient and generous community. We will get through this together!
Best,
Vanessa
Ventura County Rapid Response Fund
New Grants Awarded:
FOODshare – $150,000 – To support the dramatic increase in food needs in Ventura County. The organization has been serving up to 15,000 new households per week since the shelter-in-place directive was issued.
Project Understanding – $28,000 – To provide basic assistance, including food and housing support, to individuals and families in order to prevent homelessness.
Senior Concerns – $28,000 –This organization has pivoted quickly to meet the need of the at-risk senior population by expanding the home-delivered meals and including grocery shopping and pharmacy delivery services as emergency wraparound services. The demand for these services has increased by 69% since the start of shelter-in-place.
Spirit of Santa Paula – $28,000 – As the only shelter for homeless individuals in the Santa Clara Valley, this organization is doing everything possible to serve these neighbors and keep them safe during this challenging time.
Gold Coast Veterans Foundation – $21,000 – This organization is working with homeless veterans in Ventura County to ensure that 50 veterans who have been unsheltered receive housing at motels in Ventura County during the COVID-19 crisis.
Economic Development Collaborative – $70,000 – To help EDC support several thousand small business owners in our community as they grapple with some of the most serious economic conditions we've ever faced.
Interface Family and Children's Services – $20,000 – To support our community's 211 help line, which received 4,162 calls/texts requesting assistance in March alone! The calls being received are more complicated than other disaster and are often quite urgent. This demand represents an increase of over 200% of a "normal" month.
Channel Islands YMCA – $10,000 – To support childcare for healthcare workers at its Ventura and Camarillo locations.
Adelante Comunidad Conejo – $5,000 – To provide food and other essentials to children in extreme poverty.
Help of Ojai – $15,000 – To support food delivery to seniors and provide a safe lunch program to homeless.
Manna – $11,000 – To help provide food and basic essentials and help meet unprecedented demand.
Cabrillo Economic Development Corp – $5,000 – Providing low-income families with assistance, including food, rent, utilities, and broadband access.
Nyland Promise – $5,000 – To support the feeding of lunches to the poorest population in Ventura County.
Legislative Town Hall: Nonprofits Navigating COVID-19
Our very own Vanessa Bechtel will be joining Senator Henry Stern, Assemblywoman Christy Smith, and CalNonprofits for a legislative town hall for nonprofits navigating the COVID-19 crisis. The town hall will go over the state- and federal-level advocacy for the nonprofit sector, in addition to the philanthropic support available.
805 UndocuFund – COVID-19 Fund Update
While social distancing in the time of COVID-19 has separated us physically, in many ways we are connected more than ever. While we are stopping the spread of Coronavirus from our homes, you can help us spread kindness and love for our incredible Ventura County frontline medical professionals and essential workers!
Show your appreciation for our community heroes by sharing your letters and pictures with us on social media by tagging
Ventura County Community Foundation
Facebook: @VenturaCountyCommunityFoundation
Instagram: @VCCFoundation
Twitter: @VCCFoundation
and using the hashtag #ShowVCLove.
New Webinar: Board Governance in Uncertain Times
Tuesday, April 28
12:00 – 1:30PM
This webinar is co-convened by the Cal Lutheran Center for Nonprofit Leadership, the Nonprofit Resource Network (NPRN), the Ventura County Community Foundation, the Fund for Santa Barbara, the Santa Barbara
Foundation & Envision Consulting.
WEBINAR: Navigating Local, State and Federal Resources
Available Through The CARES Act
To help support the volume of requests for assistance EDC has launched a webinar series starting to help businesses, self-employed individuals and employees navigate the CARES Act and expanded benefits under EDD. They will be hosting webinars weekly every Wednesday from12:30-2:00. Registration is required in advance to participate.
Next webinar: Wednesday, April 29
12:30-1:30 p.m.
The 2020 Census is Here – Be Counted Today!
Can We Count On You? Census Video

Just for fun, check out the Can We Count On You? Census video!