Power of Purpose – May 15, 2020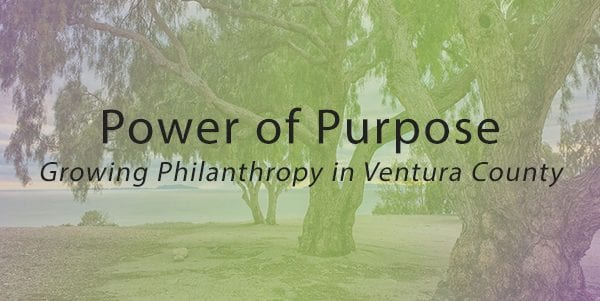 A Letter from our President & CEO
Dear Ventura County Community Foundation Family,
Today I am reminded about all that we can accomplish together, thank you!
On Friday, Ventura County emerged as 4th in California for the self-response period in the 2020 Census and ALL cities in Ventura County are exceeding the national average. Wow!
When we think about that figure, I am reminded that Ventura County was identified by the federal government in 2018 as one of the top 2% of counties in the nation most at-risk of an undercount in the 2020 Census (59th out of more than 3,000)! When each person not counted is a loss of $2,000 per year for ten years for our community (initial projected loss of $2 billion over ten-years), the threat to our social safety system and our community was tremendous.
Thankfully, with your help, the dedicated leadership of the County of Ventura and our local city governments, and over 300 members of our local 2020 Complete Count Committee, over $1.6 million was been contributed, in addition to thousands of volunteer hours, to help make this possible.
It was disheartening when on March 12th, the day the Census went live, that we found ourselves needing to suspend so many of our planned census activities, but thankfully, leadership throughout our government and nonprofit communities quickly pivoted, putting census material into hundreds of thousands of bags of food, posting electronic signs, banners, postcards, and even personal phone calls from local promotoras and other key community leaders.
We must not rest! Especially as the COVID-19 pandemic continues to place extreme pressure on our public health system and local economy, we need an accurate census count now more than ever. The #1 user of census data is business and we will need financial investment into our community now more than ever.
Please help spread the word of the 2020 Census, and if you have not completed the quick and easy form, please visit https://my2020census.gov/ today.
Keep up the great work!
Best,
Vanessa
Ventura County Rapid Response Fund Receives Additional $400,000 from Amgen Foundation
Helping Communities During COVID-19 Emergency
The Special Oversight Committee for the Ventura County Rapid Response Fund had just awarded the remaining $391,000 of the fund to local nonprofits providing essential support services when Vanessa Bechtel, President & CEO of the Ventura County Community Foundation, received a special call. Jessica Halloran, with Amgen Corporate Philanthropy, shared the amazing news that the Amgen Foundation was contributing another $400,000 to their already generous support to the COVID-19 relief effort.
"We've been witnessing unprecedented demand for support – millions of dollars in local need – and it was extremely difficult to narrow down the last of our COVID-19 grantmaking funds," shared Geoff Dean, Co-Chair of the Special Oversight Committee. "The timing of this essential support by the Amgen Foundation could not have been better."
As a critical partner in the launch of the Ventura County Rapid Response Fund, the Amgen Foundation has been there propelling this vital community-wide effort since the very beginning…
$1,031,900 Awarded in VCCF Scholarships
to Ventura County Students
This week, thanks to the incredible generosity of hundreds of local donors and the tireless dedication of the VCCF Scholarship Selection Committee, 338 scholarships were awarded to 244 individual Ventura County students.
Award notices are being prepared and hard working and deserving students will be notified in the coming weeks.
A special note of gratitude to Cristina Miranda, Tara De Bortnowsky, Phylene Wiggins, and Jim Rivera on the VCCF staff team for their leadership and commitment to local students.
Ventura County Rapid Response Fund
and 805 UndocuFund – COVID-19 Updates
Because of each of you, $1,883,804 has been granted out to support local emergency and basic needs in our community. Thank you!!
Please click here to see a full list of grants awarded to-date.
Our neighbors continue to struggle and we promise to do all we can to support our community during this very challenging time.
The need is unprecedented, but thankfully, Ventura County is a generous and resilient community, and we will get through this together!
VCCF's Special Oversight Committee meets next Thursday to award our next round of grants. Please help us raise all we can for those in need!
A Day in the Life of COVID Relief
Over 39,000 meals, 500 bottles sanitizer for moms, 4,200 pounds produce, and 380 children fed every single day.
This is a day in the life of Safe Passage Youth Foundation.
Safe Passage responded immediately to COVID-19 and operates with volunteers 7 days a week, 24 hours a day. Our programs are free of charge, and we provide children with food, face masks, gloves, infant diapers, baby formula and weekly fresh produce & fruits for their families. Plus we have over 6,100 take home STEM projects. Thank you for keeping the children of our community safe and healthy!
New Webinar!

Adaptive Leadership Practices:
Panel of Regional CEOs
This webinar is convened by the Cal Lutheran Center for Nonprofit Leadership, the Nonprofit Resource Network (NPRN), the Ventura County Community Foundation, the Santa Barbara Foundation, the Fund for Santa Barbara, Just Communities & Visionality.
While social distancing in the time of COVID-19 has separated us physically, in many ways we are connected more than ever. While we are stopping the spread of Coronavirus from our homes, you can help us spread kindness and love for our incredible Ventura County frontline medical professionals and essential workers!
Show your appreciation for our community heroes by sharing your letters and pictures with us on social media by tagging VCCF and use the hashtag #ShowVCLove.