Power of Purpose – December 17, 2020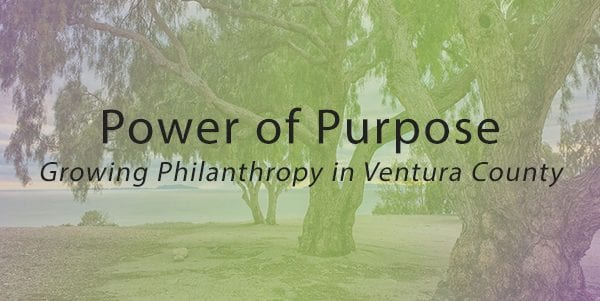 Dear Ventura County Community Foundation Family,
In a meeting last week with Erik Sternad, Executive Director of Interface Children & Family Services, I learned that 2-1-1 was responding to a record-breaking 80,000 calls this month alone from community members in crisis and need of immediate assistance and trusted information.
The most common type of call has been urgent requests for help with rental assistance, with many fearing homelessness over the coming weeks.
Other callers seek information on COVID-19, or support in leaving abusive situations. Many callers are struggling and isolated seniors needing meal assistance and other support services…the variety that 2-1-1 responds to on a daily basis is nothing short of remarkable!
There is something very powerful about being a community where those in need have someone to call.
This month's newsletter is dedicated to Erik Sternad and his team, in gratitude for their never giving up, even when call volumes are more than double or triple normal and when resources are tight. Please learn more by watching the short video below.
Finally, I want to thank each of you for coming together this year in such an incredible way! Each of you has made a meaningful contribution to Ventura County, reinforcing that we are a place of belonging, purpose, and generosity. I am forever grateful.
My best to you,
Vanessa
A Message from Erik Sternad of Interface Children & Family Services
Meet Our New VCCF Board Members!
Please join us in welcoming our two new board members:
Venkat Yepuri and Meryl Chase.
Business Assistance Grants Awarded
Over 3,880 Businesses Receive Support
The Ventura County Rapid Response COVID-19 Business Assistance Grants Program, developed by the County of Ventura in consultation with the Economic Development Collaborative, Women's Economic Ventures and the Ventura County Community Foundation, was able to provide vital grant funding to more than 3,882 businesses and nonprofit organizations in Ventura County.
Through a separate grant, the City of Camarillo was able to award grants to an additional 351 local businesses in their city.
The main features of this program include grants of $5,000 awarded to small businesses and nonprofit organizations located in Ventura County to alleviate impacts from COVID-19 for allowed uses such as payroll support, rent and lease payments, costs for personal protective equipment, purchases related to the operation of their businesses, and extraordinary business expenses for adhering to compliance protocols for reopening.
Rapid Response Fund — New Grant Recipients
After your generous support these past few weeks, VCCF was able to once again able to award 100% of funds available, totaling $32,000 in grants, from the Rapid Response Fund for COVID-19. These included grants to the Conejo Free Clinic, Conejo Valley Senior Concerns, Food SHARE, and Safe Passage.
For a full list of grant recipients from the Rapid Response Fund, please follow the link below.
VCCF 2021 Scholarship Season Opened Nov. 25
The 2021 VCCF Scholarship application season is now underway! The application period is open for student applicants and recommenders as of November 25, 2020 and will close on January 29, 2021 at 10pm. Visit vccf.org/scholarships to learn more.
Applications Now Open for
the Limoneira Foundation Fund
The Limoneira Foundation Fund invests in education, health and human services, including industry, community, cultural programs, and projects that make the areas in which we live and work more vibrant and sustainable. These areas include Santa Paula, Fillmore, Piru, Ventura and Oxnard.
Grant applications are now being accepted from qualified, charitable organizations serving these areas.
Farmworker Housing Assistance Grant Program
The Farmworker Household Assistance Program (FHAP) was created to support Ventura County farmworkers who have been economically impacted by COVID-19.
FHAP is a collaboration between agricultural employers and farmworker advocates working in partnership with the Ventura County Community Foundation, House Farm Workers!, the Farmworker Resource Program, and the County of Ventura. Every penny of your donation will go directly to farmworker families who are struggling to pay rent and other essential bills. To learn more about the Farmworker Household Assistance Program, click below.
Thank You Powell Financial Group!
Thank You Powell Financial Group!
A heartfelt thank you to the Powell Financial Group for their PFG Charitable Giving Event on Giving Tuesday. The event featured numerous local organizations, providing financial contributions to:
My Stuff Bags Foundation- Westlake Village, CA
Special Equestrian Riding Therapy- Moorpark, CA
The Organic Soup Kitchen- Santa Barbara, CA
Ronald McDonald House Charities- Bend, Oregon
Good News from YOUR Ventura County Community
This month we are proud to feature Reins of H.O.P.E. a nonprofit based in Ojai dedicated to Improving mental health for individuals by empowering and building resiliency through Equine Assisted Psychotherapy. Ventura County Community Foundation is a supporter of Reins of H.O.P.E.
"Today, I learned about asking for support," said a combat veteran, incarcerated youth, a family member. Often after session, we conclude with, "What is something, if anything, you learned about yourself?" This is a common answer: Today, I learned to ask for support.
"Don" was a combat veteran in the Gulf War. Don had never really been around horses before. He vaguely remembers a pony ride at a carnival. After the introduction, we ask him to just enter the arena and approach the three horses at his own pace. He walked about five feet, stopped, and said, "I don't know what to do." We answered, "You can ask for help". He chuckled and explained, "Asking for help was not an option in split second decision making. You relied on your military training and knowing your buddies had your back. It wasn't a question of someone 'liking' you in your command. You had a job, training, and your safety depended on everyone doing their part."
"Support then, how can we support you Don?" His shoulders slumped and he began to breathe deep. All three horses approached, we stepped closer. Then the tears came, he shared he was so afraid the horses won't like him, that he was too damaged. We, horses and humans, circled around him as he leaned on our mustang mare, Lucy, for support. The work begins.
Everyday as humans, we may have to deal with work, phone calls, family challenges, substances, possible PTSD, aging parents, the list is endless. In the wild, a herd is set up to protect the vulnerable. Lead mare in the front, stallion in the back. Military members, healthy families, good friends, support groups, therapy, understand this.
Find your "Herd" and ask for support.
19th Senatorial District and 37th Assembly District
Women of the Year for 2020
Former Senator Hannah-Beth Jackson and Former Assemblywomen, and newly elected Senator, Monique Limon honored
our very own President and CEO, Vanessa Bechtel who has been awarded the 19th Senatorial District and 37th Assembly District
Woman of the Year for 2020!
Congratulations, Vanessa!