Power of Purpose – July 17, 2020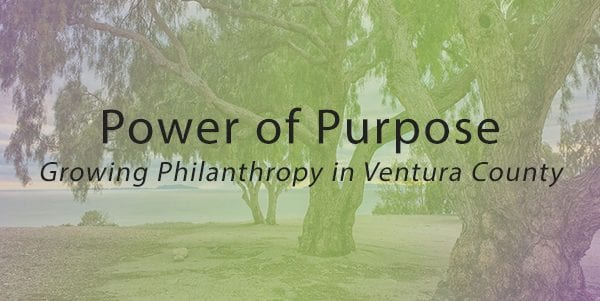 A Letter from Our President & CEO
Dear Ventura County Community Foundation Family,
You've been on my mind so much these past few days. As COVID-19 continues to create pain for so many, I've been increasingly reminded of how vital it is for us to continue to build and strengthen our own community together.
By working towards a common goal these past four months, we've collectively been able to contribute over $7.5 million to support our neighbors enduring some of the most desperate of situations. For example, because of you, those that were homeless have a safe roof over their head. You've also ensured essential workers have a safe place for their young children. And, you've stepped forward to ensure that those that have been victims of abuse and crime are able to leave dangerous situations. You have provided confidential, online mental health and emotional support services in both English and Spanish from trauma informed specialists, and you have served our veterans. You've helped cancer patients and seniors that are isolated and in need of meal delivery and other resources, and you've provided food for tens of thousands. The list of what we've accomplished together is tremendous and so needed.
Collectively you have mobilized your own networks and have come up with the most creative ways of helping to garner support. Children have designed cards and stickers, artists have donated their work, jewelers have designed pieces and have donated their hard-earned revenue. Many of you gave back your stimulus checks, with notes that express that you know there are others that need it more. I'm in awe of your generosity and empathy for others.
One of the key attributes of what unites and strengthens a community is fairness. Yet COVID-19 highlights the unfairness of our world in increasingly apparent ways. Women and people of color are losing jobs at three times the rate of others. Those that are living in crowded units are suffering a higher percentage of loss due to COVID-19 in their families. The list is long, yet together we are fighting that unfairness with each act of service and generosity.
Thank you for sharing your feedback and dreams for a better world with us. We have a long history at the Ventura County Community Foundation going back over thirty years. Our community has grown by over 10,000 new donors and supporters and together, we will continue to celebrate and honor our history of serving Ventura County. You embody the saying of Henrik Ibsen, "A community is like a ship; everyone ought to be prepared to take the helm." Thank you for your leadership during this time.
With gratitude,
Vanessa
Celebrating Our 2020 Scholarship Recipients
Please enjoy these heartwarming and amazing stories of gratitude and impact from this year's prestigious VCCF Scholarship Recipients. #BecauseYouGave
NEW! California Grants Portal – grants.ca.gov
This week, the State of California launched the California Grants Portal, a project by the California State Library to create a one-stop-shop to find all grants and loans offered on a competitive or first-come basis by California state agencies!!
This effort has been years in the making, and a big thank you goes to Assemblymember Monique Limón who authored the bill to create this portal and to the hundreds of nonprofits throughout the state that supported this effort. The site will list all opportunities from every state agency, along with links to more details and application forms. Check it out today!
805 UndocuFund Raising Millions
Because of you, over $4 million has been contributed to support our undocumented neighbors during this very challenging time. The Ventura County Community Foundation has been the Fund's fiduciary since the beginning, ensuring that 100 percent of donations go to qualified families who have applied for aid. Our goal is to raise at least $6.5 million to help all families currently on the waiting list. Please consider donating today!
New Webinar! The Realities of Re-Opening
Thursday, July 23rd, 2020
10 a.m. – 11:30 a.m.
As nonprofits navigate the realities of re-opening after Covid-19 shutdowns, join employment lawyer Jonathan Light of LightGabler in Camarillo as he shares his California specific guidance for nonprofits in respect to the regional impacts of the COVID-19 pandemic. Discussion will focus on re-opening pitfalls and considerations, with a special emphasis on payment restructure and legally compliant layoff decisions.

Going Inward on Diversity, Equity, and Inclusion: Where Do We Start?
Network for Good recently started a blog series focused on conversations with stakeholders within philanthropy to move beyond the superficial and the stagnant – through courageous conversations, new strategies, and measurable action steps.diversity, equity and inclusion in philanthropy.
They are kicking off the series by tackling the question: "Where do we start? This is the first question we have to ask of ourselves as individuals and as a collective body, a team of foundation colleagues, as a board of trustees or directors. The Question, 'Where do we start?' invites the powerful beginning to start something of value, of significance. It acknowledges that something has to commence- it's an invitation."
Find Funding and Grantmakers from Home
Using Foundation Directory Online
Foundation Directory Online is a research tool to help nonprofits find the grantmakers most likely to fund their projects. To help keep people safe, this platform is available now through August 31 for you to access from the comfort and safety of your own homes.
Click here to get started and check out this video for any questions.
How the CARES Act Can Affect Your Donors' 2020 Charitable Giving?
Good news! The CARES Act has created new opportunities to incentivize charitable giving. This couldn't be more timely as our nonprofits heroically strive to meet the increasing demand for services and challenges relating to COVID-19. Please help spread the word and incentivize community giving.
Good News from YOUR Ventura County Community
As we continue to shelter-in-place together, we want to brighten your week by sharing some of the inspirational work that you make possible.
The following stories come from our Nonprofit Partners who are able to continue their vital work because they have received support from people like you. We will continue to share these impactful updates each week from our partners who are truly making a difference during these challenging times
Karen's Story – Thank you to our First Responders!
Despite these challenging times, Ventura County community members are being activated like never before. We are so humbled by this community's display of kindness and resiliency!
The following story is from a community member named Karen, who was inspired to create magnets and signs to show appreciation for our first responders and essential workers. Karen has been selling these signs to raise funding for the COVID-19 response effort. All of the proceeds from the sale of these signs will be donated to the COVID-19 Rapid Response Fund, through Kiwanis and the Ventura County Community Foundation.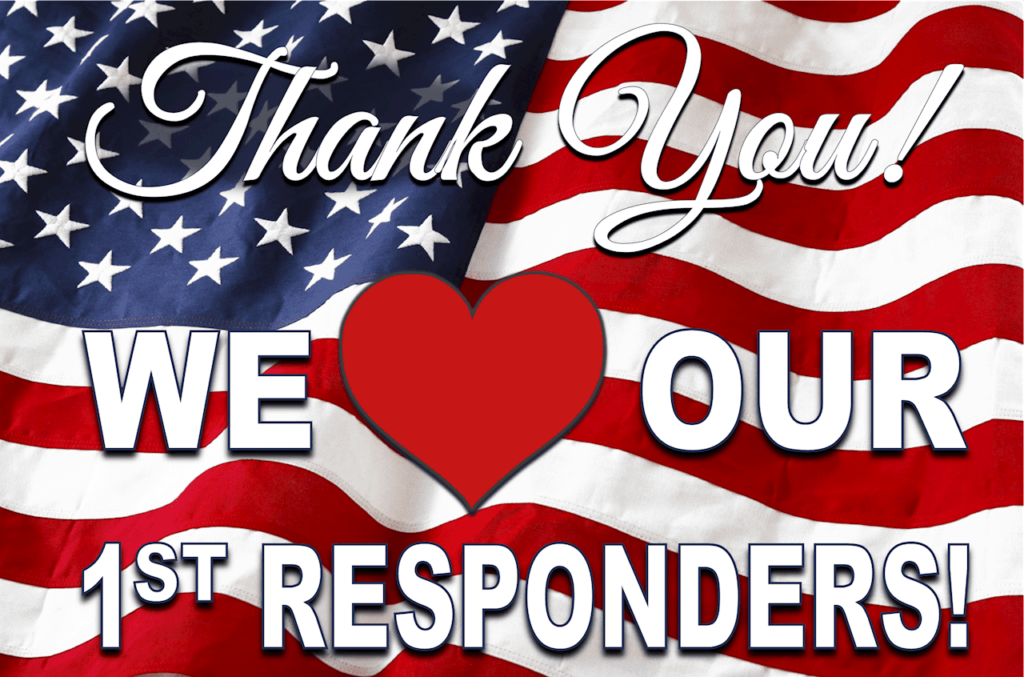 "I am 75 and retired, but I have always believed if you have a pulse you need a purpose.
While everyone is out doing all that they can and putting themselves in harm's way — making us feel very safe while shopping and other necessary activities — I really just wanted to do something to let them [essential workers] know that we really do appreciate all that they are doing. I attended a procession for our very own Simi Valley Marine Diego Pongo who was killed in Iraq on March 8.There were over 1500 vehicles including a helicopter, first responders and the Military. It was very heartwarming to see such an overwhelming show of support and love by the community.
Bringing the community together at this time seems so healing for many reasons. We are separated by the virus, but one way we can come together as a community and rally around those who are out there as first responders is by displaying thank you signs on our cars and lawns, letting them know how much they are appreciated!"