Power of Purpose Newsletter — April 28, 2022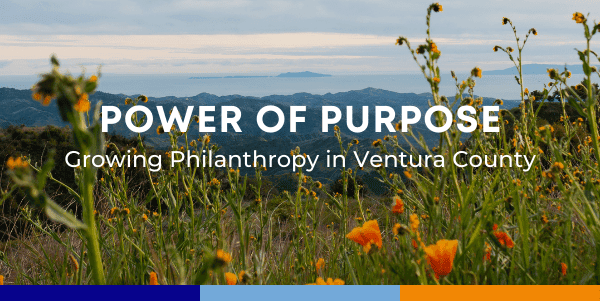 April is Earth Month!
To celebrate this important time of year, VCCF would like to celebrate our Environmental Initiative, as well as local nonprofits working to protect our planet.
Dear Ventura County Community Foundation Family,
As we come to the close of Earth Month 2022, I want to focus on our work together to improve our natural environment and address the impacts of climate change on the lives of all Ventura County residents. We have learned especially over the past four-plus years how important our natural environment is and how its preservation and enhancement will enrich our lives and ensure the generations to come have this nature to enjoy. As you'll read below, we are so excited to be doing a deep dive into our nonprofits focusing on environmental preservation and climate change with an emphasis on an equitable approach to this critical work, and we are pleased to highlight just a few of these amazing organizations in this issue of our newsletter.
As I personally reflect on Earth Month, I am reminded of a recent walk along the Ventura Botanical Gardens trail with my niece from Fresno on Easter Sunday. What a joy to experience with her the beauty of this place, the view and the native plants thriving in our spring weather. I also reflect on my regular walks along the beach and a recent family trip to Santa Cruz Island, such a magical preserved place of wonder that represents the best the California Coast has to offer the world. We were even welcomed by an island fox as we disembarked from our boat.
Lastly, we would like to congratulate Sigrid Wright, Community Environmental Council CEO, for being awarded Congressional Woman of the Year. Her leadership on climate action and environmental advocacy over the last 25 years has paved way for many other local stewards throughout the Central Coast to protect our environment through work and support of our local nonprofits.
During these often challenging times, it is so wonderful to know that we together with our donor and nonprofit partners are making a difference in the environment for all.
Sincerely yours,
Jeffrey Lambert, Chief Operating Officer
Update on VCCF's Environmental Initiative
VCCF embarked on an Environmental Listening Tour in April of 2021 after 76 percent of donors from a focus group identified the environment as one of their top two areas of interest for their giving. Aligning with the national average, less than 2 percent of VCCF's annual giving went to environmental causes in 2019. We hope to change this through our efforts with an environmental initiative!
To-date, over 30 organizations, with programs in Ventura County focused on environmental issues, from climate justice, conservation and restoration, wildfire prevention, natural resources, youth education, farm-to-table food access, workforce development and so much more, have attended and shared their needs and where philanthropy can best help fill the gaps through the Environmental Listening Tour. We look forward to sharing our findings with you in the summer of 2022.
If you have any questions or would like to learn more, please contact Calleen Pardinas as cpardinas@vccf.org.
Community Environmental Council's Earth Day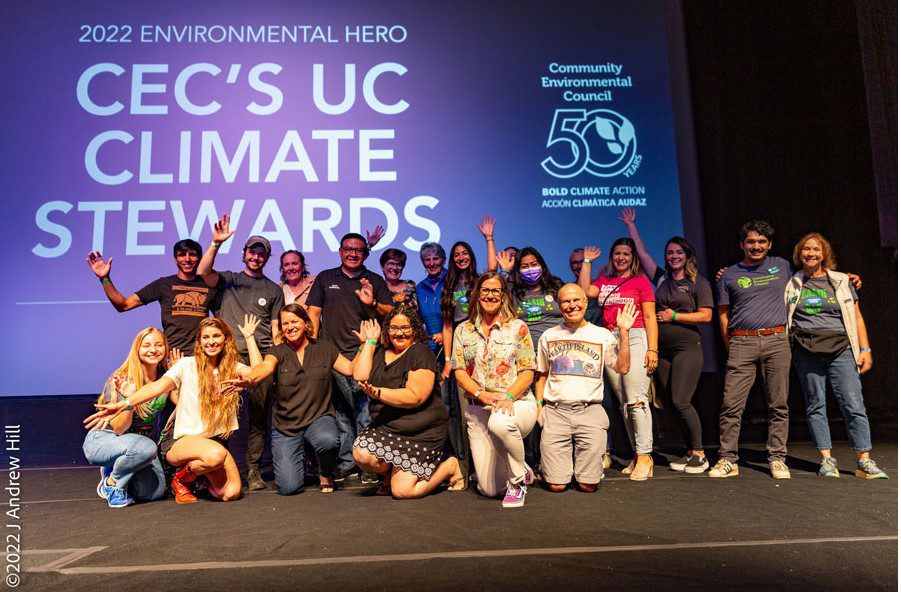 VCCF's Philanthropic Services Officer and Board Liaison, Calleen Pardinas, was honored this past Saturday at Community Environmental Council's Earth Day 2022 Environmental Hero Award Ceremony! Along with more than 40 certified Stewards to date from college students to retired community members, Calleen graduated from the course in 2021.
The cohorts were honored this year for their shared commitment to engage in transformative local solutions to promote community and ecosystem resilience in a changing climate. In 2021, CEC became the only Central Coast nonprofit to offer a UC Climate Stewards course. The 40-hour certification course includes climate curriculum and discussion, field trips, and a Capstone project, giving participants a deeper understanding of the psychology and science behind climate change while providing skills necessary for climate action.
For more information about CEC's UC Climate Stewards Program, click the button below.
Friends of the Santa Clara River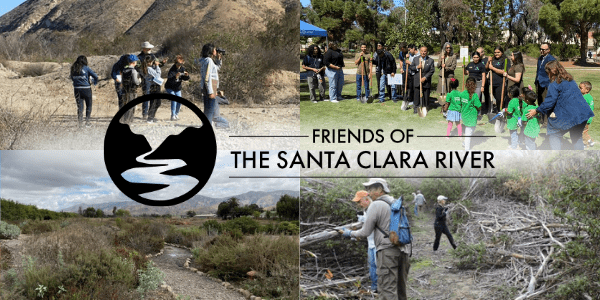 The Friends of the Santa Clara River is a public interest organization formed in 1993, focusing from the start on a range of issues involving protection of the entire river in both Ventura and Los Angeles Counties. These efforts have included opposition to many large urban development projects involving intrusion into the river's floodplain and channelization of the river.
Join them for two upcoming events, the Santa Clara River Walk and Talk on Friday, May 6 and the Sespe Cienega Ethnobotany Trail Restoration on Saturday, May 7. To learn more or register, click below.
Conejo Youth Conservation Corp
Safe Passage Youth Foundation kicked off their new program, the Conejo Youth Conservation Corps, on March 26. CYCC is a six-week paid program for five high school students starting at 15-and-a-half year of age focusing on topics including trail conservation and restoration, wilderness first aid, tree mitigation, and so much more! Weekly courses are taught by local environmental professionals and end with an opportunity for coaching on job interview skills and resume building for careers in the environmental field.
Saticoy Food Hub
In January of 2022, the Saticoy Food Hub was established as a 501(c)(3) nonprofit in Ventura County, made possible by funding from the Social Justice Fund to help to train community members to develop food operations at home along with obtaining food licenses. Sierra Doehr, Executive Director, was a fellow of the Social Justice Fund. After returning back to her home in Ventura County, she decided she needed to address food insecurity in Saticoy, a designated food desert. Sierra's backyard garden is one of many local farms in Saticoy growing food to sell at the Saticoy Farmers Market, and provides free food at the Community Fridge, allowing for locals to take and share nutritional produce with their community.
Meet Terri Ferro
VCCF's intern Daniel Whitworth had the opportunity to speak with VCCF donor-client Terri Ferro (pictured right) and hear about her passion for supporting underserved youth in Ventura County. Click the button below to read her interview.
Events Calendar
805 UndocuFund Presents: Serving Undocumented Communities in Disaster and Beyond
Wednesday, May 18, 2022 at 10 am (Virtual)
Join us at a panel discussion hosted by 805 UndocuFund to discuss lessons we've learned in serving undocumented communities that fellow nonprofits, school/government agencies and philanthropy can apply in working with their undocumented immigrant clients. We'll also explore how disasters illustrate underlying socio-economic factors and systemic barriers that must be addressed before, during, and after disaster. Click here to register.
The Great Non-Profit Talent Search
Thursday, May 19 from 5 to 6 pm (Virtual)
The LIVE@5 livestream show on May 19 features "The Great Non-Profit Talent Search," focusing on the challenge So Cal nonprofits have in finding top talent given the competitive job market. VCCF President & CEO Vanessa Bechtel will be a guest speaker on the panel to provide her insight on the topic. Click here to register for this free event.