Power of Purpose Newsletter – August 26, 2021
Dear Ventura County Community Foundation Family,
On Saturday, August 14 I was very grateful to attend Rubicon Theatre Company's "Dare to Dream" Summer Education Series' production of Les Misérables. It was ABSOLUTELY FABULOUS and a shining example of how philanthropy changes lives.
I particularly want to thank Loretta and Mike Merewether, the Smith-Hobson Foundation, Jeanne P. Adams and Barbara Meister for helping to support this incredible opportunity for 21 students, ages 8 to 18, to perform together. I urge all to watch this very moving video of the lead young man who played Jean Valjean and his fellow castmates – they truly blew me away with their talent and heart!!
As many of you know, my life was also changed by a philanthropist when I was very young. This donor helped provide me with a violin and lessons from 2.5 years old all the way through 5th grade. While I did not end up being a professional musician, I still love to play, and I owe music so much. Not only did this generous donor inspire a lifelong passion, but music ended up being my gateway to college and a source of revenue when I was younger. My gratitude for being given this opportunity also instilled a deep sense of urgency to give back, ultimately shaping the course of my life and career.
We may never know the full impact we will have on another's life or the full reach of our individual contributions on the world, but on Saturday night, what was clearly evident was the total and complete joy of these young people. It was truly beautiful and something to treasure in a time filled with so many challenges.
Since I last wrote, the VCCF Board of Directors approved $745,248.38 in additional grants, only made possible because of each of you. From support to Thomas, Hill, and Woolsey fire victims, to support for our libraries, access to food, rental assistance, housing, and animal welfare, I can't think of an area of our community you aren't touching together. On behalf of all of us, thank you!
Thinking of you,
Vanessa
Vanessa Bechtel
President & CEO of the Ventura County Community Foundation
Congratulations VCCF 2021 Scholarship Recipients!
Our students submitted wonderful stories and photos of how VCCF scholarships are impacting their families, their education, and their future. Please click below to see the moving stories of our 2021 VCCF scholarship recipients.
#BecauseYouGave
September – Mark and Jacob Iskander Fund Matching Campaign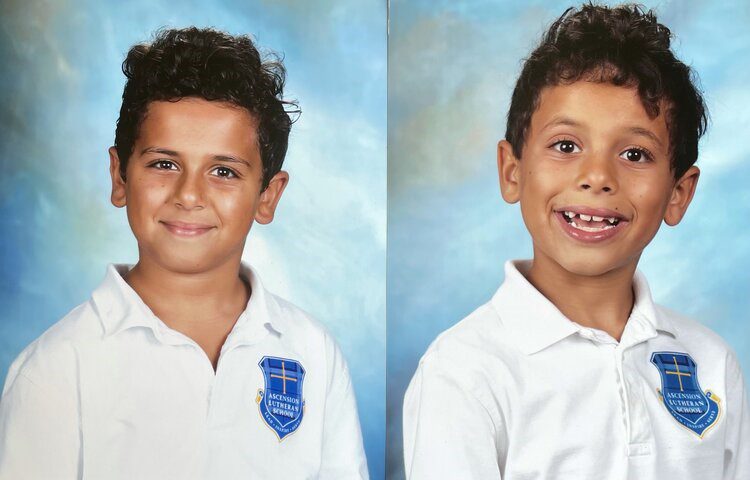 The Mark & Jacob Iskander Foundation has announced a matching fund for September to honor the anniversary of Jacob and Mark's passing on September 29, 2020. All donations made to the foundation will be matched 100 percent until the end of the month. Donations will go towards efforts such as the recently launched scholarships (read below), as well as the funding of a child development center and orphanage in Egypt. The foundation is hoping to complete the remodeling of the Mark & Jacob Iskander Orphanage by September 29 in their honor.
Mark and Jacob Iskander Scholarship Accepting Applications
Education has always been a cornerstone of the Mark & Jacob Iskander Foundation because Mark and Jacob were always incredibly enthusiastic about learning. The Iskander Foundation has partnered with Ascension Lutheran School and Oaks Christian School in order to give foster children the financial support needed to access an education at these wonderful institutions attended by Mark and Jacob. If you know an outstanding young individual in the foster care system, living in the Conejo Valley/Ventura County area, who might benefit from these programs, share the link below.
Santa Paula Art Museum's Online Fine Art Auction Fundraiser
The Santa Paula Art Museum's online Fine Art Auction Fundraiser is happening now on Bidsquare! Now through Sunday, August 29, place your bids on 21 stunning works of art by some of our region's most popular historic and contemporary artists. All proceeds benefit the Museum and the thousands of students and visitors it serves each year. The Santa Paula Art Museum is a 501(c)3 tax-exempt, nonprofit organization. Click here to register and bid.
"East of Town" by Santa Paula artist Gail Pidduck
Ventura County Rapid Response Fund Reopened
The Ventura County Rapid Response Fund has reopened after an increase in Covid-19 cases countywide. The purpose of the Rapid Response Fund has been to support those organizations providing basic human needs to individuals, families, and small businesses in Ventura County. Click here to learn more.
Business Assistance Grants Round 8
Nonprofit Cultural Institutions Only
The County of Ventura is offering an additional round of Business Assistance Grants for nonprofit cultural institutions. Round 8 will support California eligible nonprofit cultural institutions of any revenue size that meet eligibility criteria found at CAReliefGrant.com. Eligible nonprofit cultural institutions must complete a new application even if they already applied in Rounds 1, 2, 5 or 6; nonprofit cultural institutions that applied in Round 4 do not need to reapply. Grants will only be available to nonprofit cultural institutions that did not receive funding in any previous rounds. Grants will be prioritized based on the documented percentage revenue declines based on a reporting period comparing Q2 and Q3 of 2020 versus Q2 and Q3 of 2019.
Important Dates for Round 8:
Application Opens: August 27, 2021
Application Closes: September 8, 2021
Congratulations, Dr. Gabino Aguirre!
The Pacific Coast Business Times honored Dr. Gabino Aguirre with their Latino Business Award for his tireless contributions to the Ventura County 2020 Census efforts. Dr. Aguirre led as the Region 5 Coordinator for Ventura county, and continues to serve his community through his commitment to vaccination outreach efforts as well as his work with VCCF's Santa Paula Early Childhood Education steering committee.
Welcome Ginny Claborn!
Ginny Claborn, Philanthropic Services Officer will focus on connecting with donors to share the powerful and positive impact made through their generosity. In addition, she will be part of the team responsible for the oversight of grants and strategic initiatives.
Her passion for serving in the nonprofit community began as a volunteer and led to serving on the national staff of Habitat for Humanity International specializing in organizational development. She continues to volunteer and serves on the Board of Directors for CASA (Court Appointed Special Advocates) of Ventura County.
VCCF Donor Spotlight – Christine Dale
VCCF's Ginny Claborn interviewed donor Christine Dale about her life's journey into philanthropy and the causes closest to her heart. Come see why we love her so much!
Power of Community
Good News from YOUR Ventura County Community
Make-A-Wish — Sergio's Wish
I wish to be a firefighter!
In September 2019, Sergio, 6, was playing outside and complained he had bad pain on his left thigh, and his mother rushed him to the ER. Soon after, Sergio was diagnosed with leukemia.Sergio dreams of becoming a firefighter one day. On Wish day, Make-A-Wish and the Oxnard Fire Department transformed Oxnard Fire Station 1 into a spectacular wish celebration for Sergio. Inside the fire house, a locker bearing Sergio's name held his custom uniform, complete with his name, patches and reflective stripes just like a real firefighter. Oxnard Fire Chief, Alex Hamilton, added an official badge to the uniform in a special ceremony. He wore it with pride while taking a tour of the fire station, riding in the fire truck, and using the firehose in a safely controlled fire simulation.
Big thanks to the Oxnard Fire Department Station 1 and everyone who helped make this wish truly special. With the dedication of our community, Make-A-Wish hopes to make many more wishes come true this year.