Power of Purpose Newsletter — February 25, 2022

February is Animal Welfare Month!
VCCF Board of Directors announces over $1 MILLION
in grants to local nonprofits supporting animals!
Congratulations to all our recipients!
Read more about their awesome work this funding will support
Buddy Nation
Cats Cradle Rescue
Girl Scouts of California's Central Coast
Greyfoot Cat Rescue & Sanctuary
Humane Society of the United States
Humane Society of Ventura County
Mercy Crusade Spay, Neuter & Wellness Clinic
Moorpark College Foundation
National Disaster Search Dog Foundation
Ojai Raptor Center
Oxnard Community K-9 Foundation
Oxnard Performing Arts Center
Simi Valley Non-Profit Spay and Neuter Clinic, Inc.
Santa Paula Animal Rescue Center
Spay/Neuter Animal Network
Surfcat Café & Adoptions
Ventura College Foundation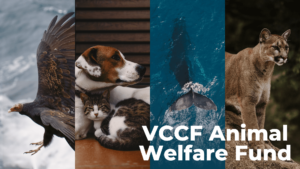 Dear Ventura County Community Foundation Family,
Shortly before the pandemic, our organization was fortunate to obtain an important source of funding for animals in Ventura County from a generous donor who had passed away and who wished to benefit "animals wild and domestic, large and small, on land and in sea." To assure responsible stewardship of these funds, VCCF organized a task force of local animal welfare leaders as well as expert advisors from the Humane Society of the United States. After embarking on a comprehensive and ambitious listening tour, which included hearing from nonprofits serving a wide range of animals here in Ventura County as well as reviewing the results of the regional report conducted by the Humane Society of the United States, we are proud to announce that our Board of Directors approved over $1 million of grants from the Animal Welfare Fund this month!
The work that this fund will support is widespread, ensuring that the donor's original vision of improving quality of life for all animals is honored. It will go towards projects such as monarch butterfly habitat restoration, cat spay/neuter and care services, and a partnership between Ventura County Animal Services and the Humane Society of the United States' Pets for Life program, which brings veterinary care to underserved communities.
In the years that come, we look forward to bringing even more attention to the important causes that are affecting animals in our county and highlighting the amazing work of those who serve them. Thanks to the many passionate and dedicated members of the Animal Welfare Task Force and the organizations who applied during this first round of funding, VCCF is poised to make lasting differences in the lives of animals in Ventura County, and perhaps even serve as a model for programs, practices, and services that promote humane treatment of our non-human friends everywhere.
Sincerely,
Christine Dale and Nathan Hickling
VCCF Animal Welfare Task Force
Girl Scouts of California's Central Coast
The Girl Scouts of California's Central Coast has developed a monarch butterfly breeding and research institute at Camp Arnaz in Ventura. (And yes, butterflies are considered animals!) This project involves enhancing areas within Ventura County to support the migratory monarch's life cycle by reducing flying distances between foraging and breeding sites by increasing and diversifying the necessary floral resources at those sites, and by enhancing overwintering sites through strategic planting and canopy management. Click below to watch a video on the pollinator garden project.
Ventura College Foundation
Ventura College's Veterinary Technology Program is a partnership between the Ohana Pet Hospital, the Ventura College Foundation, and Ventura College. As the only veterinary technology program in Ventura County, the program is vital in meeting the high, unmet need for registered veterinary technicians and qualified/trained veterinary assistants in Ventura County and throughout the region.
Spay & Neuter Animal Network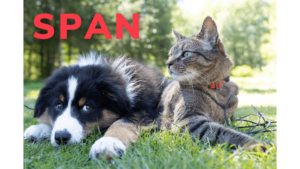 Since 1992, the Spay & Neuter Animal Network has made it their mission to reduce dog and cat overpopulation throughout Ventura County by raising public awareness about the direct consequences of irresponsible breeding. Over the last 30 years, SPAN has made it possible for the spay and neuter of over 35,000 thousand dogs and cats. SPAN is currently working on adding an additional mobile clinic to help reduce suffering among feral and stray animals by providing humane medical attention beyond routine spay and neuter.
Surfcat Café & Adoptions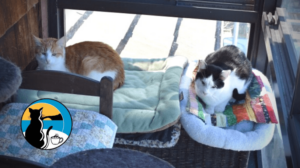 Surfcat Café & Adoptions is a foster‐based feline rescue that specializes in cats with special needs, cats that are hard to place, and senior kitties. Surfcat supports Ventura County Animal Shelter by rescuing cats and kittens from VCAS to help keep VCAS a "no‐kill" shelter. Surfcat has rescued and placed over 350 cats and kittens since it started almost seven years ago.
Moorpark College Foundation
Photo source: America's Teaching Zoo Facebook
America's Teaching Zoo at Moorpark College is enhancing their parrot aviary through their VCCF animal welfare grant. As they grow the zoo and create natural exhibits for their high-profile animals, they have found the need to bring funding and attention to projects like the aviary. This grant will provide a welcome update to the area housing the rescued birds in their aviary.
Humane Society of the United States
The Humane Society of the United States's "Pets for Life" program is one that is driven by social justice and guided by the philosophy that a connection with pets transcends socio-economic and racial boundaries. "Pets for Life" increases equity in access to pet resources and bridges the gap between underserved communities and the resources people want and need for their companion animals. Through community outreach and relationship building, PFL provides life‐changing and life‐saving no cost services, supplies, and information to people and pets.
Events Calendar
Transfer of Wealth Workshop hosted with the Center for Nonprofit Leadership
Thursday, March 3rd from 12 to 1:30 p.m. (Virtual)
Join us for the March 2022 Nonprofit Leadership Council. This session will focus on the revised Transfer of Wealth study and analysis commissioned by VCCF on the donor landscape in Ventura County, including rich data on wealth trends, donor preferences and how nonprofits can be prepared and positioned for the largest generational transfer of wealth in our nation's history. Special attention will be paid to the effects of COVID-19 restrictions and adaptation of our donor engagement and fundraising practices. Click here to register for free.
Virtual Donor Lunch & Learn
Thursday, March 17th from 12 to 1 p.m. (Virtual)
Hear from local nonprofits about the incredible work they are doing in your community, joined by likeminded community members and donors. Click here to register for free.