Power of Purpose Newsletter — January 31, 2022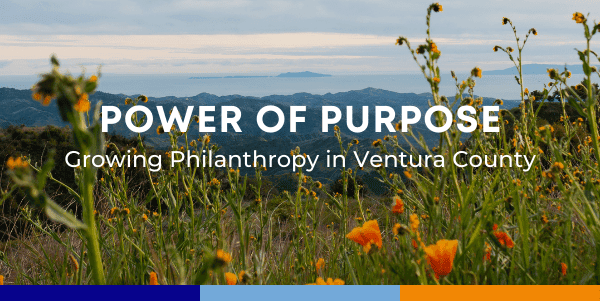 Dear Ventura County Community Foundation Family,
I find it hard to believe that we are starting a new year and the third year as our community manages our way through this COVID pandemic. Now more than ever it is critical that we take the time to connect with each other, stay in touch and make positive impacts on our collective community of Ventura County. To that end we are pleased to embark on our Coffee & Connection series with our next session scheduled for February 9. We already have more than 80 non-profits signed up; we witnessed in our first event in December how meaningful our connections are and how purposeful we must be to ensure we maintain and strengthen these collaborations.
I also want draw your attention to our amazing Ventura County government. We have all worked so closely together to reduce the impacts of this pandemic on our community and the County has done much of the heavy lifting. In fact it is so impressive that Ventura County ranked as the 4th county in the nation in securing FEMA funding for our response to the pandemic, a remarkable achievement as the county ranks 75th in the nation based on population. This success takes partnerships and leadership from the County and we are so grateful to the entire team that made this happen. These funds support local assistance, testing, vaccine deployment and Ventura County Medical Center operations.
Finally, I want to mark the close of this year's VCCF Scholarship application period. This year we received 4,267 applications; this is 1,200 more than last year, and by-the-way, nearly 1,500 of these were submitted on the last evening of the application process. I want to recognize our amazing Scholarship team (Dr. Cristina Miranda and Malena McKaba) for their tireless work to support our youth and I look forward to again celebrating our scholarships with our "Because You Gave" video.
On behalf of the VCCF Board of Directors and Team, please be safe and continue to support our community,
Sincerely,
Jeffrey Lambert
VCCF Chief Operating Officer
Virtual Lunch & Learn –
Santa Monica Mountains Fund and National Parks Service
VCCF donors and Board of Directors were joined this month for a Virtual Donor Lunch & Learn by Charlotte Parry, Executive Director with the Santa Monica Mountains (SAMO) Fund, and David Szymanski, Superintendent of the Santa Monica Mountains National Recreation Area with the National Park Service. Please watch the recording of the their presentation clicking the video above. To become a member of the SAMO Fund, please visit https://www.samofund.org/.
For more information on how to attend upcoming Virtual Donor Lunch & Learns, please contact Calleen Pardinas at cpardinas@vccf.org.
Coffee & Connections – February 9
VCCF and the Center for Nonprofit Leadership invite you to grab a cup of coffee and join us for Coffee & Connections! Coffee & Connections is a pilot networking program for nonprofit professionals designed to cultivate community-based, mutually beneficial relationships with one another around shared goals and shared missions.
These monthly virtual events will begin with brief orientations to Ventura County Community Foundation and the Center for Nonprofit Leadership, and move into facilitated conversations with local non-profits to share missions, chat about the challenges and successes, and provide a deeper understanding of our community and its needs.
The next Coffee & Connections will be on February 9 at 8:30 a.m. for new attendees and 9:30 a.m. for the main call. Click the button below to register (forms available in both English and Spanish).
Ventura County ranked fourth county in the nation in
securing FEMA funding for pandemic response
The Federal Emergency Management Agency (FEMA) ranks Ventura County fourth in the nation for securing funding for COVID-19 response. "The County took an aggressive approach in seeking FEMA reimbursement for the County's $104 million in costs associated with our community-based testing, vaccine, non-congregate sheltering and meal delivery efforts in 2020. This approach was an administratively arduous task; however, the benefit was that it allowed our County to maximize the investment back into the community with more than $150 million in local assistance," said County Executive Officer Mike Powers.
VCCF Nonprofit Financial Analysis Webinar
First in the series of workshops to assist VCCF fund holders with grantmaking, VCCF's Bonnie Gilles, Chief Financial Officer, and Tracy Tagawa, Chief Compliance Officer, presented on nonprofit financial analysis. Watch this recording by clicking the video above. A calendar of events can be found on our website at https://vccf.org/donor-peer-network/.
Become a VCCF Scholarship Reader!
VCCF is currently accepting applications for 2022 scholarship readers. Scholarship readers spend 15-20 hours between March 11, 2022 and April 15, 2022 reviewing and scoring scholarship applications from Ventura County students. Service on the scholarship review committee is voluntary. We welcome individual's interest in giving back and helping students achieve their full potential.
Any questions in regards to becoming a VCCF scholarship reader, please contact Cristina Miranda, VCCF Scholarship Program Director, via email at cmiranda@vccf.org.
Women's Economic Venture – Webinar

The Women's Economic Venture held a webinar last week with communication coach Kathy Gruver entitled "Say What? How to Communicate Anything to Anyone," hosted by communication coach Kathy Gruver, is available for free viewing. Click the button below to watch the webinar, using the passcode Sj3?KzY#
WEV has many more great offerings planned for 2022. Anyone interested in being notified about our speaker series and webinars can receive this information by subscribing to their mailing list here.
California Attorney General Increases Charity
Registration Fees and Updates Registration Forms for 2022


Effective January 1, 2022, the California Attorney General Registry of Charitable Trusts is introducing a new filing fee schedule and updated forms for most types of organizations, including charitable organizations, commercial coventures, fundraising counsel, commercial fundraisers, and raffle registrants.
Representatives from each of these types of organizations should continue reading to learn about the increased fees and new forms.
805 UndocuFund Funding Report 2020-2021

805 UndocuFund has released their final funding report, illustrating the impact of donors during the Covid-19 pandemic. Click the button below to read more on the impact of donations by region and job sector or to see the numbers on giving, including $6,074,360 in Covid-19 assistance distributed to 13,441 individuals. To make a donation to 805 UndocuFund, click here.
Power of Community
Good News from YOUR Ventura County Community

Kidstream – Ventura County Children's Museum
As 2022 begins, the new year brings new opportunities for our community. KidSTREAM, the Ventura County Kid's Museum is an example of the hope that 2022 brings. Be part of this next exciting phase of growth, as kidSTREAM prepares to increase their impact exponentially by reaching hundreds of thousands each year through their expanded footprint.
KidSTREAM officially became a nonprofit organization in 2016 and has since been committed to being a place where children can explore, play, and discover, creating critical thinkers, innovators, and lifelong learners by using hands-on learning and exhibits. In 2021 the Camarillo City Council voted unanimously to transfer the use of two acres of land and an entire former library building to kidSTREAM, where they will soon open their kids museum to the public.
Watch the video to join kidSTREAM's journey from becoming a nonprofit organization in 2016, to next steps and milestones for the future. all while they prepare the final steps to opening their doors and increasing the positive impact they have on the children in our local community.