Power of Purpose Newsletter — March 30, 2022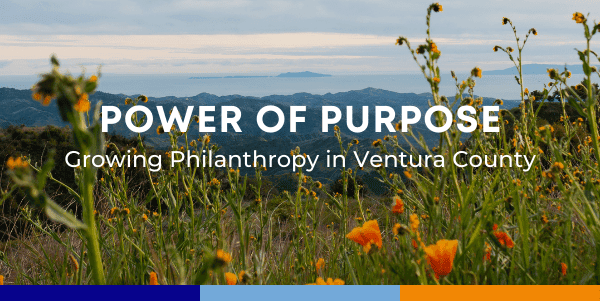 Dear Ventura County Community Foundation Family,
Over these past few weeks, your generosity has reminded all of us at your community foundation that small acts of compassion and kindness makes a world of difference. My heart goes out to you in gratitude, thank you!
As the war in Ukraine continues, so many in our foundation family have reached out, asking for guidance on how to best support those fleeing for safety. Together, we've grieved for the victims of horrific violence and have struggled as we continue to witness millions losing homes, communities, and loved ones in a matter of moments.
Once again, you have stepped forward, demonstrating through your actions that when we feel most afraid, and during times of our greatest sadness, the small act of giving is one of most profound and powerful tools we have to create the change we seek.
There are literally dozens of nonprofit organizations working to help, including our sister community foundations abroad. Ednannia, for example, is supporting the largest community foundation network in Ukraine. The Council on Foundations has also published guidance for making grants to help those most impacted by the humanitarian crisis. Their message to us, "We each matter and we all have the ability to help."
On a personal note, if you, like me, are craving moments of quiet reflection and hope, I highly recommend listening to "The Dreamer" by Immanuel Wilkins. I just love this piece of music – I actually have it on repeat as I write you – and his thoughtful style inspires me to stay focused and to remember what we can accomplish when we all come together.
Featured in this newsletter is the Santa Paula Highest Quality Early Childhood Education Initiative, our Transfer of Wealth Initiative that we've been so honored to partner with Cal Lutheran's Center for Nonprofit Leadership on, an interview with two of our treasured community foundation friends – Meenal and Kris Kelkar, a brief introduction to the VCCF Environmental Initiative, and more! Please know we welcome your involvement and invite each of you to reach out anytime if you'd like to get more involved in these, or any, of your community foundation's endeavors.
My very best to you,
Vanessa
Vanessa Bechtel
President & CEO, Ventura County Community Foundation
Highest Quality Early Childhood
Education for All
The Santa Paula Early Childhood Education Steering Committee convened in February to discuss critical action steps for bringing no cost, highest quality early childhood education to all young children in Santa Paula. The Ventura County Community Foundation is proud to support this herculean and vital effort. This historic undertaking seeks to serve close to 1,000 children between the ages of 3 and 4 each year. Please contact Calleen Pardinas for more information.
Our Collective Opportunity: Ventura County's
Historic Transfer of Wealth
On March 3, VCCF co-convened the Nonprofit Leadership Council workshop with the CLU Center for Nonprofit Leadership. This session focused on the recently updated Transfer of Wealth study and analysis commissioned by VCCF on the donor landscape in Ventura County, including rich data on wealth trends, donor preferences and how nonprofits can be prepared and positioned for the largest generational transfer of wealth in our nation's history. As our friends at the California Community Foundation share, "This is not an opportunity to fix things today. It is an opportunity to plan our futures, to plan for the sustainability of our community's ability to serve people who have the greatest needs."
Meet Meenal and Kris Kelkar
"Everything is needed, so find what you're passionate about and start there. All of us hold a piece of the puzzle, so it's not that one piece of the puzzle is any bigger or more valuable than the rest, and it all then needs to come together." – Meenal Kelkar
VCCF's intern Daniel Whitworth had the opportunity to speak with longtime VCCF donor-clients Meenal and Kris Kelkar. Read more and find out why we love these two amazing humans so much! Click the button below to read their interview.
Tree Mitigation Efforts in Ventura County
The County of Ventura's Sustainability Division's mission is to support sensible growth, healthy environment and economy, enhanced quality of life, inclusion and equity, and greater self-reliance throughout all of Ventura County. Our County's Climate Action Plan (CAP) related implementation program of the County's General Plan which assigns the Resource Management Agency, General Services Agency, and County Executive Office to work jointly to conduct tree planting activities with the goal of planting at least one thousand trees annually.
This webinar serves as the first step in the County of Ventura's Sustainability Division's efforts of establishing thoughtful collaboration with all stakeholders involved in preserving Ventura County's tree canopy along with sharing and strengthening forestry resources. VCCF's Calleen Pardinas was invited to present on the findings of the Environmental Listening Tour. For more information, please email cpardinas@vccf.org.
CERF Economic Forecast
This year's Annual Ventura County Economic Forecast hosted by the California Lutheran University Center for Economic Research and Forecasting (CERF) was back in person on March 8, hosted by CERF Executive Director Matthew Fienup. This premier networking and forecast event included an in-depth analysis of the county's economic performance and an assessment of its economic and demographic future, as well as detailed analysis and forecasts for the United States and California economies.
VCCF President & CEO Vanessa Bechtel was a guest commentator and spoke in her video about the 2020 Ventura County Complete Counts Census initiative and the success of the campaign, reaching the 95th percentile in the nation for an accurate census count.
VCCF's Vanessa Bechtel Receives
Chairperson's Award of Excellence
West Ventura County Business Alliance named VCCF's president and CEO Vanessa Bechtel one of the recipients of the annual Chairperson's Award of Excellence. Honorees were celebrated at a luncheon on Friday, March 4 for their leadership in Ventura County. Congratulations, Vanessa!
Power of Community
Good News from YOUR Ventura County Community

Rising from the Ashes Home Tour
The Ventura County Library Foundation is excited to announce the long-awaited Rising from the Ashes Home Tour is back on. On Saturday, April 30, the strength and resilience of Ventura will be in view during a tour of some of the beautifully rebuilt homes. It will be clear the Thomas Fire of 2017 caused devastation, but not defeat.
Tickets are $40, and all proceeds will go to support the work of Ventura County libraries. These donations will enable VCLF to fund important literacy programs, the Mobile Library, broader access to the internet and computers to close the digital divide, homework tutoring, STEAM initiatives, and much more.
The homes' distinctive and unique architecture captures the views from these hills while new landscaping embraces fire mitigation measures. This unique opportunity to tour newly rebuilt homes in the Ondulando, Clearpoint, and Skyline areas of Ventura promises to be a delightful afternoon that will showcase resilience, creativity, and beauty of six spectacular Ventura hillside residences. Click the button below to learn more and purchase tickets.
Events Calendar
Cesar Chavez Celebration Day
Thursday, March 31 from 2 to 3:30 pm (Virtual)
Join the County of Ventura Diversity, Equity, & Inclusion Council in celebration of Cesar Chavez Day. Hear from Paul Chavez, son of Cesar Chavez and President of the Cesar Chavez Foundation, as he discusses his father's legacy, contributions and the impact he had on Ventura County. Spanish and Mixteco interpretation will be available. Click here to register.
Virtual Donor Lunch & Learn
Thursday, April 28 from 12 to 1 pm (Virtual)
Join fellow VCCF donors and community members for a Zoom presentation by Mesa, a nonprofit focused on providing homeless youth with transitional housing, as well as an update on the Tiny Homes Pilot Program. Click here to register.
805 UndocuFund Presents: Serving Undocumented Communities in Disaster and Beyond
Wednesday, May 18, 2022 at 10 AM (Virtual)
Join us at a panel discussion hosted by 805 UndocuFund to discuss lessons we've learned in serving undocumented communities that fellow nonprofits, school/government agencies and philanthropy can apply in working with their undocumented immigrant clients. We'll also explore how disasters illustrate underlying socio-economic factors and systemic barriers that must be addressed before, during, and after disaster. Click here to register.