Press Release: Ventura County Community Foundation Celebrates the Service of Outgoing Board Chair, Scott Hansen, and Announces Board Leadership Changes
FOR IMMEDIATE RELEASE
October 26, 2021
Vanessa Bechtel
Ventura County Community Foundation
805-330-6676
vbechtel@vccf.org
Ventura County Community Foundation Celebrates the Service of Outgoing Board Chair, Scott Hansen, and
Announces Board Leadership Changes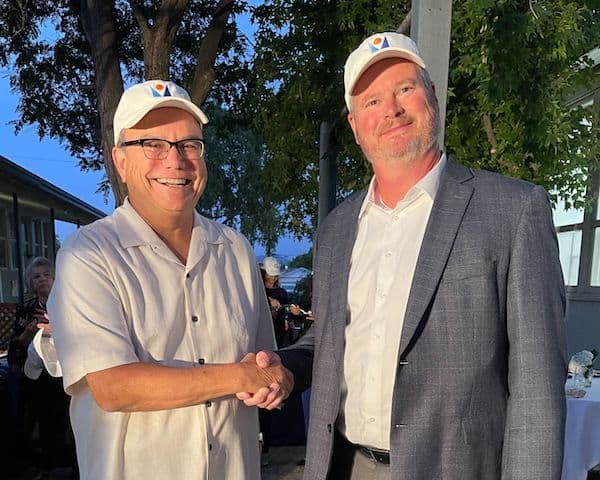 Camarillo, CA — After six years as the Chair of the Board of Directors for the Ventura County Community Foundation (VCCF), Scott Hansen, Regional Managing Director for the Valley Market of Wells Fargo Private Wealth Management, is passing the baton to VCCF's incoming Board Chair, Sean Leonard.
During his tenure as Chair, Scott Hansen has overseen close to $100 million in grantmaking to the Ventura County community, including VCCF's disaster response efforts to help those impacted by the Thomas, Hill, Woolsey wildfires and Borderline mass shooting, as well as its COVID-19 relief efforts. Hansen has also championed the community foundation's 2020 Census outreach efforts, Caregiving Initiative, Farmworker Household Assistance Program, Vaccine Outreach & Education, scholarships to over 1,000 students, and grants to more than 500 local nonprofit organizations.
"As my home for over 20 years, it is truly an honor to give back and serve the Ventura County community. I look forward to continuing on VCCF's Board of Directors, working closely with Sean, to advance our mission of connecting people, resources, and solutions to create lasting impact in our shared world," said Hansen.
Sean Leonard joined VCCF's Board of Directors in 2019 and is passionate about increasing access to affordable housing and supporting our local nonprofit sector. Leonard is President and CEO of S.L. Leonard & Associates, Inc., which he founded in 2004, and his firm is a certified Minority Business Enterprise that provides Owner's Representation, Project, and Construction management for nonprofits, public agencies, developers, businesses, and investors. He serves on the boards of A Community of Friends, Casa Pacifica Centers for Children & Families.
Veronica Quintana will remain as VCCF's Treasurer, and Leah Lacayo will serve as VCCF's Secretary.
Quintana is a Senior Manager at CBIZ and Mayer Hoffman McCann P.C. and specializes in providing services to companies in the agricultural, construction, manufacturing, restaurant, and professional service industries. She cares deeply about our community's youth and serves on the Board of the Oxnard and Port of Hueneme Boys and Girls Club.
Leah Lacayo, a 35-year resident of Ventura County, is highly regarded for her community activism. She serves on the Ventura County Fair Board as Vice-Chair, CSU Channel Islands Alumni & Friends Association as Immediate Past Co-President, Ventura County Women's Political Council, and Congress of California Seniors Education & Research Fund.
ABOUT VENTURA COUNTY COMMUNITY FOUNDATION
Established in 1987, the Ventura County Community Foundation has focused on building philanthropy in our region by stewarding legacies through careful management of the charitable capital entrusted to us. We are committed to a long-term perspective for Ventura County. We honor donor intent by protecting endowments forever, and we specialize in connecting philanthropic resources with community needs for the benefit of all. We invest in the future through scholarships, grant making, and collaborative partnerships. For more information, please visit www.vccf.org.
###