Vaccine Outreach Newsletter – July 2022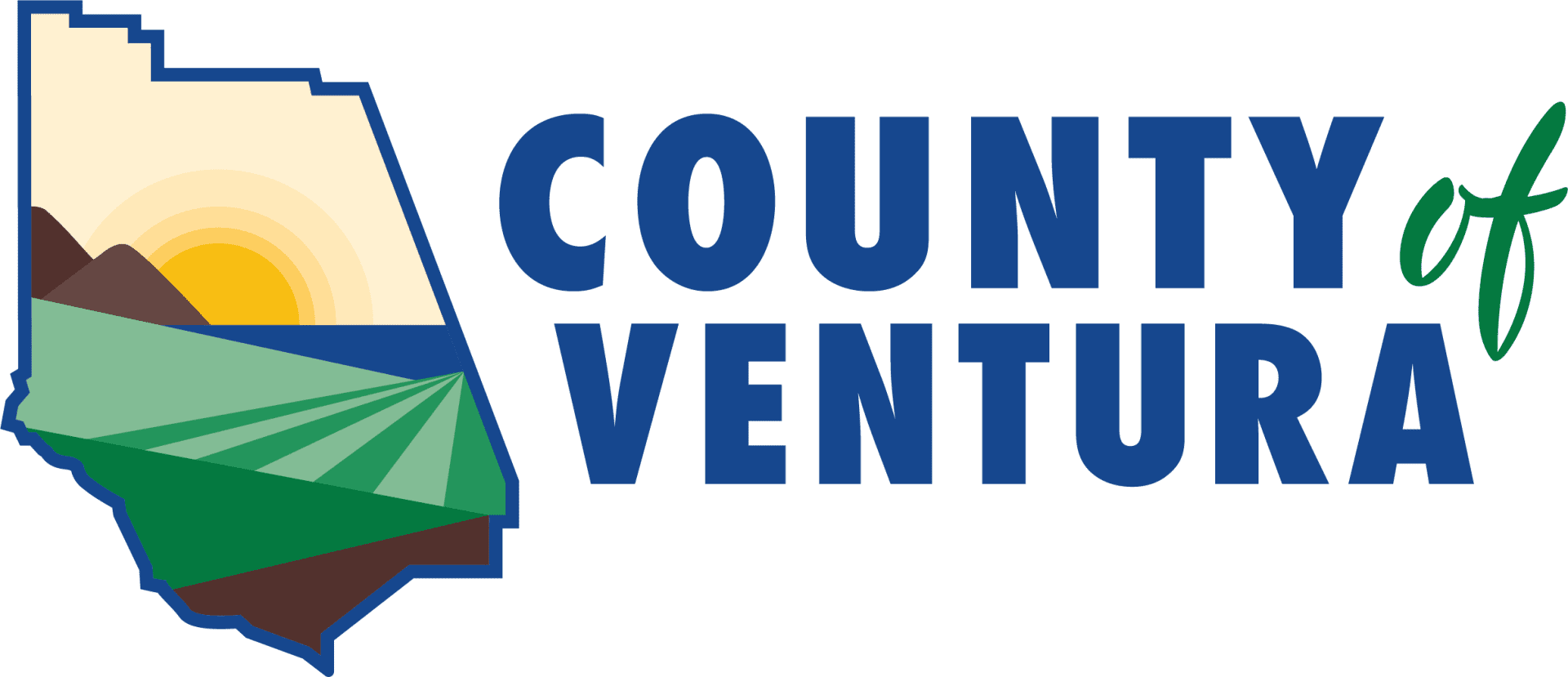 Para versión en español, ver más abajo | For Spanish, see below
Complete Reach Committee Newsletter
July 2022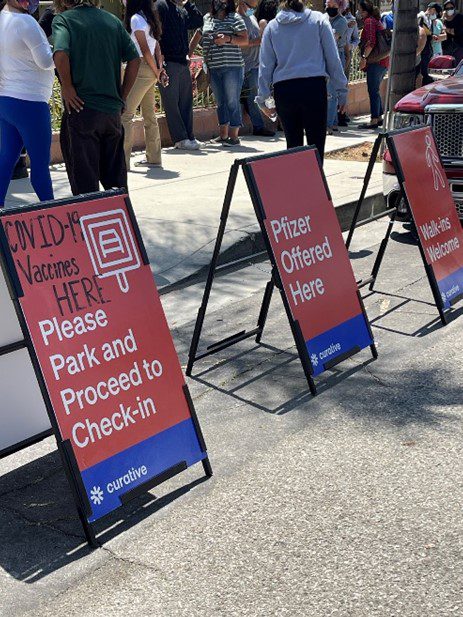 Hola,
What a whirlwind we've gone through! …from COVID to Delta to Omicron, and now its variants. We can all feel proud of what we've accomplished collectively for, ultimately, it's all about protecting our communities and we've done a heck of a job. So, thank you for your commitment to this labor of love. Bottom line, if we even saved one life, it would have been worth it. But, by our estimates, our overall campaign has saved over 300 lives and eased/prevented suffering for tens of thousands. Because of you, outreach figures for the last four months totaled 159,243 individuals, 58,143 families and households, 2041 assisted with vaccinations, and 18,838 assisted with testing. Thank you thank you thank you… So, as Round 3 funding has ended, here are a few items to take care of as we close out.
Let me know if you haven't expended all your funds and I can help plan to incorporate these funds into our continued proposed campaign.
Plan on joining us for monthly follow-up end-of-month updates with the first one scheduled for July 29, 2022, at 10 AM. This is important given the spread of the two latest Omicron variants which together account for 70% of new infections in the United States.
We expect VCPH and the County to provide us with printed and social media postings for distribution within our networks and communities. We're hoping you can incorporate these into your regular workflow of organizational activities and services. We will be emphasizing boosters, vaccinations for under 5s, pediatric clinics, and of course, masking and testing.
All of this to say THANK YOU for your excellent work and hopefully, you can continue with our campaign. Perhaps even more importantly, you are part of the "trusted messenger" family so let's stay in touch. Thus, let's continue "en la lucha… in the struggle" for our communities. Mil gracias…
– Dr. Gabino Aquirre
By the Numbers
From February 21 to May 20 of 2022, our Complete Reach partners…
… reached 150,119 individuals
… assisted 10,422 individuals with testing
… and assisted 1,864 individuals with vaccination!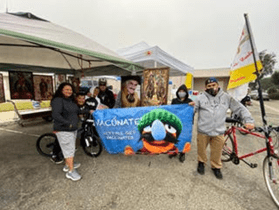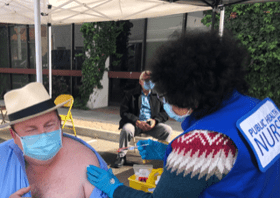 Complete Reach Committee Reaches 40 Under 40
Congratulations to the Committee's own Benjamin Suber, who was recently honored by the Greater Conejo Valley Chamber of Commerce for his contributions!
Ben Suber
GIS Manager & Planner
Schmitz & Associates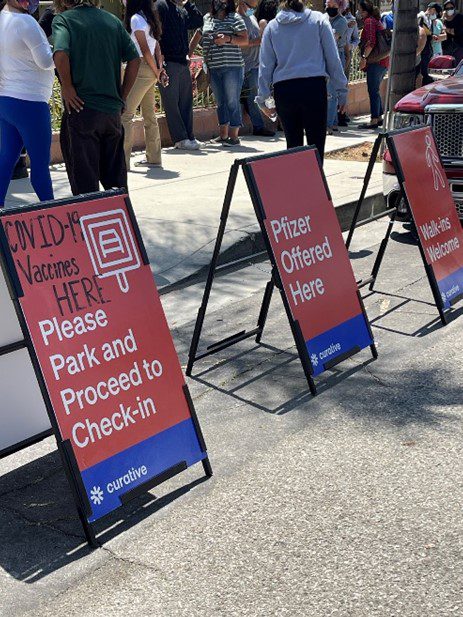 Comité de Difusión Completa
¡Qué tremendo torbellino hemos pasado! … de COVID a Delta a Ómicron, y ahora a sus variantes. Todos podemos sentirnos orgullosos de lo que hemos logrado en forma colectiva pues, a fin de cuentas, se trata de proteger a nuestras comunidades y hemos hecho un trabajo extraordinario. Así que, gracias por su compromiso con esta obra de amor. En pocas palabras, si apenas hubiéramos salvado una vida, habría valido la pena. Pero, según nuestras estimaciones, nuestra campaña general ha salvado más de 300 vidas y aliviado / prevenido el sufrimiento de decenas de miles. Gracias a usted, las cifras de difusión de los últimos cuatro meses totalizaron 159,243 personas, 58,143 familias y hogares, 2041 ayudaron con las vacunas y 18,838 ayudaron con las pruebas. Muchas, muchas, muchas gracias…Ahora que hemos llegado a la finalización de la financiación de la Ronda 3, aquí tenemos algunos asuntos de los que nos debemos encargar al ir cerrando.
Por favor infórmenme si no han gastado todos sus fondos y les puedo ayudar a planificar la incorporación de estos fondos a nuestra campaña propuesta continua.
Planee reunirse con nosotros para recibir actualizaciones mensuales de seguimiento de fin de mes con la primera programada para el 29 de julio de 2022, a las 10 AM. Esto es importante dada la propagación de las dos últimas variantes de Ómicron que juntas representan el 70% de las nuevas infecciones en los Estados Unidos.
Esperamos que VCPH y el Condado nos proporcionen publicaciones impresas y en redes sociales para su distribución dentro de nuestras redes y comunidades. Esperamos que ustedes puedan incluirlas en su flujo usual de trabajo en las actividades y servicios de la organización. Haremos hincapié en los refuerzos, las vacunas para menores de 5 años, las clínicas pediátricas y, por supuesto, el uso de mascarillas y hacerse las pruebas.
Con todo esto les damos las GRACIAS por su excelente trabajo y ojalá, puedan continuar siendo parte de nuestra campaña. Quizá aún más importante, ustedes son parte de la familia de "mensajeros de confianza", así que mantengámonos en contacto. Así que, sigamos "en la lucha… batallando" por nuestras comunidades. Mil gracias…
– Dr. Gabino Aguirre
En números
Desde 21 Febrero hasta 20 Mayo 2022…
… llegamos a 150,119 personas
… ayudamos a 10,422 personas con las pruebas
… y asistimos a 1,864 personas ¡con la vacunación!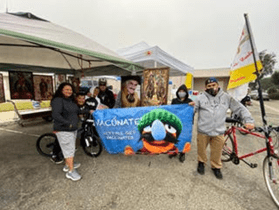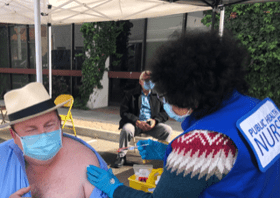 El Comité de Difusión Completa llega a 40 menores de 40
Felicitaciones al propio Benjamin Suber del Comité, ¡quien fue honrado por la Cámara de Comercio del Gran Conejo Valley por sus contribuciones!
Ben Suber
GIS Manager & Planner
Schmitz & Associates