Vanessa Bechtel Speaking at Camarillo Chamber of Commerce Business @ Breakfast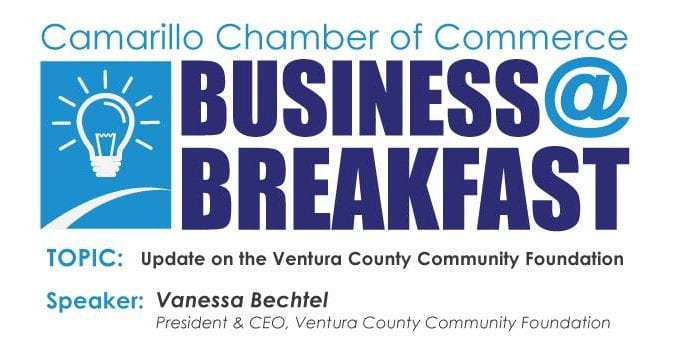 Register for the upcoming Camarillo Chamber Business@Breakfast!
Join us at Las Posas Country Club in Camarillo for our Business@Breakfast event. We have guest speaker Vanessa Bechtel, President & CEO of the Ventura County Community Foundation to give us an update on their organization.
TOPIC: Update on the Ventura County Community Foundation
SPEAKER: Vanessa Bechtel, President & CEO of VCCF
Thank you to our Sponsor: Make It Healthy
—————————
This is a great chance for you to meet fellow Chamber members, promote your company, and share best practices! Every attendee gets a chance to introduce themselves and even win prizes for the best "20-Seconds of Fame" speech, so polish up your elevator speech and sign up today!
—————————
ABOUT VCCF:
Established in 1987, the Ventura County Community Foundation has focused on building philanthropy in the region by stewarding legacies through careful management of the charitable capital entrusted to them. They are committed to a long-term perspective for Ventura County. They honor donor intent by protecting endowments forever and specialize in connecting philanthropic resources with community needs for the benefit of all. They invest in the future through scholarships, grant making, and collaborative partnerships.
ABOUT THE SPEAKER:
Vanessa serves as President & CEO of the Ventura County Community Foundation (VCCF) where she oversees ~$100 million in charitable assets and is responsible for the financial stewardship of several hundred separate funds, including managing the investments for 90 nonprofit agency endowments throughout Ventura County.
PRICE: Members $25, Non-members $35.
Register by the Wednesday before to be on the HotSheet!