VCCF Donor Spotlight: Interview with Terri Lisagor
By Lauren Graf
Honoring National Make a Difference to Children Month, Dr. Terri Lisagor, VCCF donor client and Isabella Project committee member, spoke about her love-filled philanthropy centered around children and her generous work teaching nutrition and oral hygiene to Q'eqchi' families in Guatemala for the past 25 years.
Terri was "born to be a teacher," and at 7 years old would round up the neighborhood children during the summer to hold an arts and craft camp in her backyard. This love of education followed her through her life, and when women's professions had a limited sphere in the 1960s, she found that teaching elementary school fit perfectly. Terri also incorporated her lifelong interest in nutrition and would educate the students on this vital topic.
Terri and husband Mark married as undergraduates. Through their lives, they have been activists for many causes, like protesting the Vietnam War or marching for women's rights. After completing Mark's dental residency, they moved to Camarillo to establish his dental practice, where Terri developed a cavity prevention and nutrition program for the office's families and children. To best facilitate this program, she returned to school for her master's degree in nutrition and food science at California State University, Northridge. Her love for teaching was sparked again after teaching a class during her professor's sabbatical, and she pursued her doctorate in education at Pepperdine University to teach a tenured track.
Terri shared her philosophy of love for giving back through her life,
I never really wanted any payment. It's just, "How can I love, how can I hug, how can I help make other people feel like they matter?" Whether it's about education and teaching, whether it's about running the little camp in my backyard when I was little, what I've learned is that the easiest thing to give a person is a smile. If you connect eye to eye and smile at that person, it's absolutely amazing. Language barriers aside, that's the universal language.
Please share about your work with the Q'eqchi' families in Guatemala.
In the early '90s, a friend of Mark's met a woman in Guatemala, Irma. And he said, "I'm a children's dentist, do you ever need anything?" Irma said, "Oh yes!" So, he started getting Mark involved in this project working in tiny villages in Guatemala. Here you have these kids with rampant decay, many of the moms die in childbirth because of sepsis from infection. You've got average life expectancy maybe in the 30s, and no education beyond the sixth grade for most of the kids there. We started going there to help prevent infection. If you look at what causes the infection that causes them to die, if there's bacteria in the mouth, that goes into the bloodstream to the heart and to the brain. Even before children have teeth, if you can teach them how to clean, even with a washcloth, then you're decreasing the bacteria.
Being pushy me, I think, "If you've got these children who have nothing and they're dying, and you're trying to clear their infection in their mouth, we better teach them how to avoid that." I set up an education program there, and it's out in the jungles, but there was a church right there, and they had an area that was perfect for me to set up. We got all these donations for toothbrushes, then the other important thing was, how do you convince these families that we're there to help them, how will they trust us through their generations? Here's where Irma comes in. She's part of the wealthy group of Guatemalans, and usually the wealthy and the pobrecitos don't comingle, but Irma has this ginormous heart. She wanted to protect these children.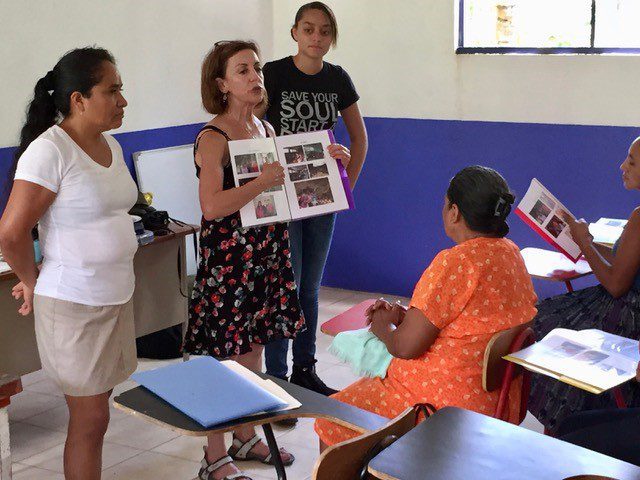 If somebody goes to the villages to convince the parents we're here because we love them, that we're here to help them, that they don't need to be afraid of going to the dentist, that was enough. Us coming back year after year, Irma being our liaison, setting up this clinic and this space where I could do the teaching, and then we have these children that grew up with us, it's that old saying, "Give a man to fish and he eats for a day. Teach a man to fish and he eats for a lifetime."
We've expanded what we've done in Guatemala to raise money for scholarships for the kids who want to go beyond the sixth grade. We have foundations set up through International Health Emissaries, through Global Dental Relief.
Tell us about the Lisagor Family Fund at VCCF and some causes it has supported.
Mark and I were broke when we were growing up, and what I love most about my husband and my kids, I'm proud that they have the same philosophy, that we don't need much. We have our needs met and boy, have we been lucky. So, same house, my home away from home in Vancouver, our kids are fully educated and fully financially independent with their families. It's like, "Okay, what can we do? How can we make a difference?"
From the very beginning, we were able to find causes that touched our heart. We love Interface Children & Family Services because of how far-reaching it is. I was abused as a kid, but now look where I am, so it's like that was a part of my past, how blessed I am to be where I am, and to have the life I have. Boys & Girls Club of course, what it does for the kids in our community, what it does all over the world. The ones we're really involved with are Port Hueneme and Camarillo, and each thing they do is critically important for children and families. We've supported multiple annual campaigns and we do annual giving for them.
Kidspace Children's Museum, we've been involved in the capital campaign and ongoing support for their kid's museum. Guatemala, and FoodShare. I've joined the advisory Board for FoodShare. Food insecurity ties in with, "Oh my God, if somebody doesn't have the right nutrients, how can a baby grow? How can a brain cell develop, especially in the first year of life?"
Cal State University, Channel Islands, their early childhood education programs, training a growing workforce. You can notice especially for me and Mark, they tie into the themes with the children, starting early, and letting them know somebody cares about them, somebody loves them unconditionally.
Share a favorite story connected to your philanthropy.
I believe this from my heart and soul, you get a whole lot more than you give. It's a crack-up because people constantly say thank you, and that's not right. I thank them. I thank them for the opportunity, I thank my life for being in a position where I get to do this, and you meet wonderful people along the way. I can't understand mean people; I can't understand why people don't give.
I'll tell you a wonderful example of this: one of my grandsons, Wes, is 14 years old now, and he's been coming to Guatemala since he was 7. Wes is bilingual, and the first time he came with us, he helped me do the teaching. You should see the little 7-year-old Wes brushing kids' teeth, "Circulitos, circulitos, circulitos."
After we have been working in the clinic for the week, we take a bus back to Antigua, and we have a couple days there before we fly back to California. I was walking along with Wes in Antigua, and we were talking about this experience, and I said, "What did you think about it, Wes?" And he said, "I really liked it." I said, "Do you know there are some people who don't believe we should be giving this out, we shouldn't be doing that?" He held my hand and he looked up and said, "Why would anybody feel that way?" Some people look at giving as making people dependent on you, and that's a philosophy my family certainly does not embrace, but it was something for a 7-year-old to hear so he knew not everybody felt the same way. It was an opportunity to teach him about the importance of giving from your heart.
If you would like to learn more about opening a fund at VCCF, please email Jim Rivera at jrivera@vccf.org.