VCCF Power of Purpose Newsletter – February 1, 2023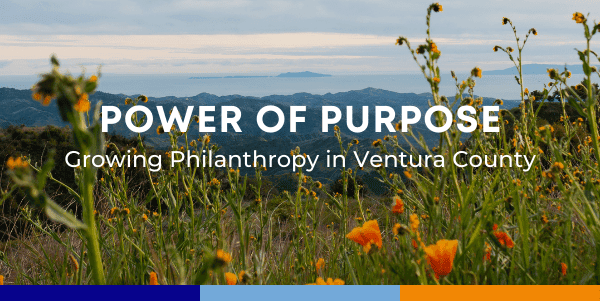 Dear Ventura County Community Foundation Family,
On behalf of the VCCF Board of Directors and staff team, I want to wish all a happy 2023. I personally cannot believe in December we marked five years since the devastating Thomas Fire, and I'm so pleased that VCCF and our donors continue to support those who lost their homes in the fires. I hope you read Marcy Zaid's story and remember that many have yet to recover. Our donors are at the heart of our work in the community, and I'm pleased to feature Brando and Karla Pozzi and their generosity to several important community priorities.
Recently, we've all experienced unprecedented storms in our region. These storms have flooded Ventura County's agricultural fields, washing away infrastructure and damaging or destroying crops. Thousands of farmworkers are now without jobs for several months, as crops in these fields cannot be harvested and new planting is impossible. Please consider supporting these families by making a donation here.
As your community foundation, VCCF brings together our family philanthropic office and community leadership to maximize the impact of the generosity of those in Ventura County. It's important we collectively understand the challenges we face and are informed by thoughtful, thorough journalism. To this end, you will find in this newsletter two examples of the excellent reporting in the Ventura County Star by reporters supported by VCCF's Fund to Support Local Journalism.
We have much to celebrate in Ventura County and we look forward to a year of giving and positive impact for our future.
Jeffrey Lambert
VCCF Chief Operating Officer
VCCF spoke with Brando and Karla Pozzi for January's Donor Client Interview, following their support of 805 UndocuFund's recent campaign. Read how their families inspired their philanthropy, and their passion for animals, the environment, and empowering marginalized communities.
Over the last several months, VCCF has sponsored reporters at the Ventura County Star through VCCF's Fund to Support Local Journalism. Read some of the incredible investigative reporting made possible by our fund.
"Storms can mean lost wages for local farmworkers" by Dawn Megli
"'It's been a disaster': Post-pandemic test scores erased decades of progress" by Tony Biasotti
Get Ready! VCCF Animal Welfare Grants Opening Soon
Nonprofits supporting animals in Ventura County, get ready! VCCF will be opening our applications for our Animal Welfare grants soon. Last year, we granted $1 million to nonprofits, so get ready to submit your application and read about last year's grantees below.
Light at the End of the Tunnel After the Thomas Fire
Five years after the Thomas Fire, long-time Ventura resident Marcy Zaid will be moving into her newly rebuilt home later this year thanks to funding in part by VCCF. Marcy spoke with VCCF about the impact of the fire on her life, the recovery process with help from local nonprofits, and what she's learned over the years.
Power of Community
Good News from YOUR Ventura Community

Ventura County Caregiver Navigator Program
Listen to the American Hospital Association's latest podcast on Ventura County's Caregiver Navigator Program! This four-part series will highlight the work that the Ventura County Community Foundation, the Ventura County Community Health Improvement Collaborative, and other community partners are doing to launch this program in our county.