VCNC Hosting A Wildfire Conversation with the Dr. Lucy Jones Center for Science and Society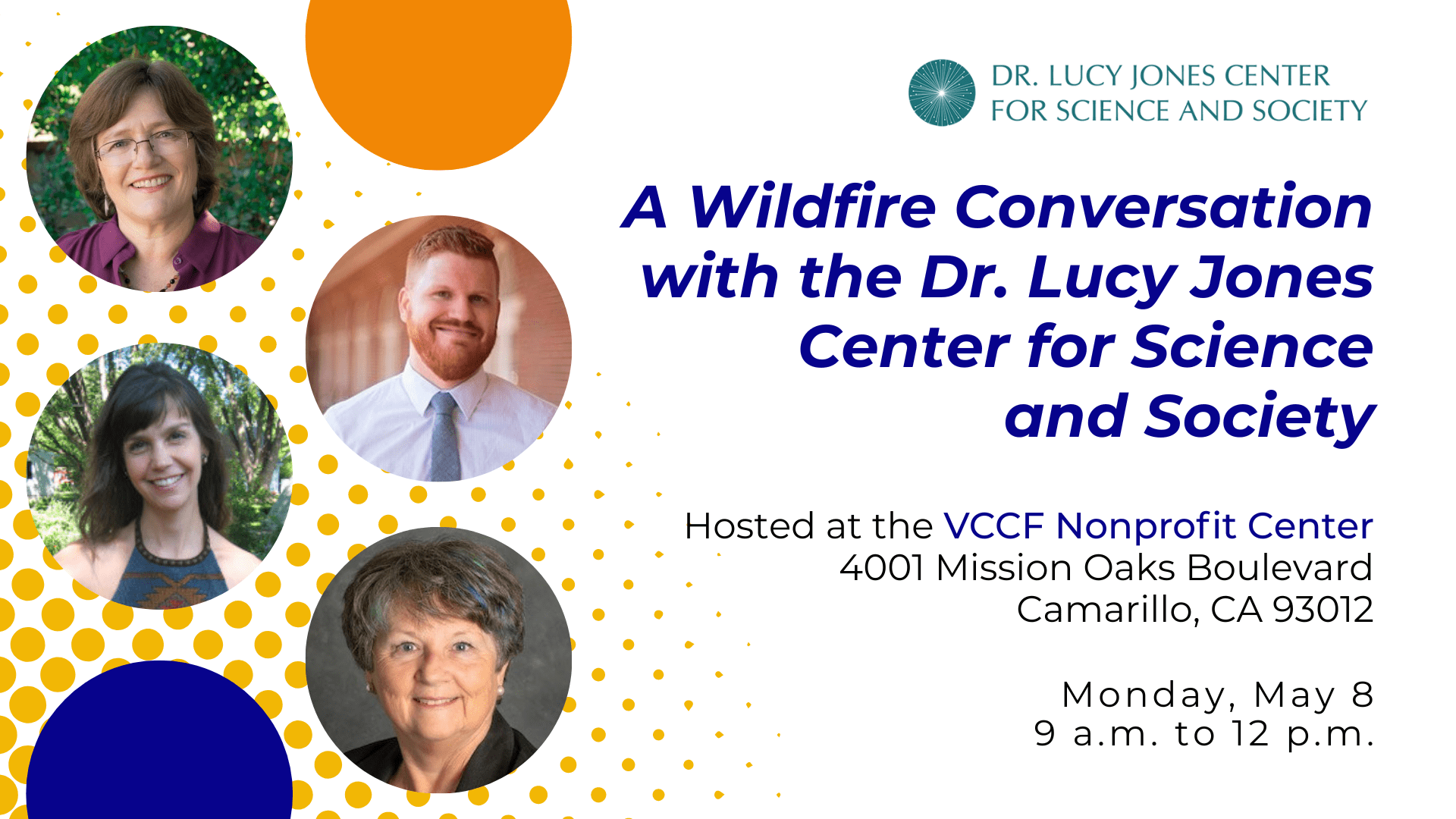 Please join VCCF as your host on Monday May 8th at the VCCF Nonprofit Center (4001 Mission Oaks Boulevard, Camarillo) for a timely wildfire conversation with the Dr. Lucy Jones Center for Science and Society about future wildfires, how to create greater resilience, and what Ventura has learned over the past few years.
Registration is required to attend this free event. Please click here to make your reservation now.
In this meeting, national experts in social science, ecology, and disasters will share brief remarks about the existing and future wildfire risk and resilience in our community and across the state. Attendees will then share their local experience and insights to inform future statewide wildfire resilience planning, programs, and research.
The central goal of this workshop series is to create a forum for information exchange between scientists, wildfire survivors, those displaced by climate disasters, government decision-makers, nonprofit CBOs, business owners, and economic recovery collaboratives to gain insights into what facing these extreme wildfires is like as their rate and intensity increases with climate change, to share resilience-building tactics, and to determine what research needs to be understood and applied for communities to recover.
Please come with questions and be ready to take in some basic data and research on the way communities can and have come together to mitigate the risk of what they might face next. You'll get tactics you can use in your community, connections to national experts on the topic, and help set in motion additional pre-disaster policies and programs to support your local community and economy.
About Our Speakers
Lucy Jones is the founder and Chief Scientist of the Dr. Lucy Jones Center for Science and Society, with a mission to foster the understanding and application of scientific information in the creation of more resilient communities, and a Research Associate at the Seismological Laboratory of Caltech.
Dr. Alex Greer is an Associate Professor in the Emergency Management and Homeland Security Department at the University at Albany. His research interests include hazard adjustments, relocation decision-making processes, and organizational culture.
Dr. Alexandra Syphard is a senior research ecologist who studies the causes and consequences of landscape change, especially wildfire, vegetation dynamics, land use change, invasive species, and climate change. She also investigates structure loss and community vulnerability to wildfire, identifying management decisions that produce co-benefits for human and ecological well-being.
Dr. Susan Cutter is a Carolina Distinguished Professor of Geography at the University of South Carolina and director of the Hazards Vulnerability and Resilience Institute. Her primary research interests are in the area of disaster vulnerability/resilience science and how vulnerability and resilience are measured, monitored, and assessed.
This will be a unique opportunity to partner with scientists and those of us that have experience the devastation of wildfires in our community to discuss how to be better prepared for future disasters.