Power of Purpose Newsletter – November 30, 2021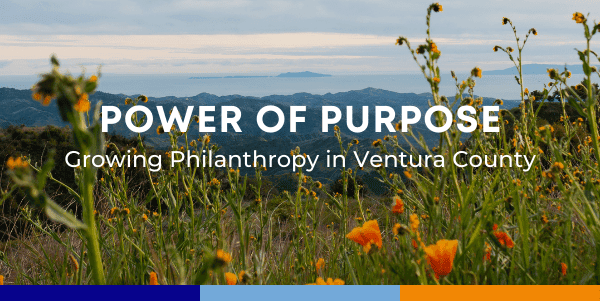 Dear Ventura County Community Foundation Family,
I've been dreaming about this moment for the past twelve months, and couldn't be more excited to share the news of our rebranding with each of you! My heart is filled with gratitude to all who participated in this collaborative journey and who honored our 34-year history of service to our community by taking this process to strengthen and clarify our identity so seriously. I especially want to thank VCCF Board Member, Meryl Chase, and Immediate Past VCCF Board Member, Tim Gallagher, for co-leading this effort, and our fantastic marketing team at Loacom. We are so grateful and absolutely delighted with the results of your hard work and dedication!!
Our next phase of our rebranding will be to update our website with more content and vital information that will help us fulfill our mission of connecting people, resources, and solutions to create lasting impact in our shared world. We welcome your thoughts and ideas along the way. If you notice ways we can improve our communications and best help you achieve your philanthropic dreams, please reach out! We are eager to hear from you! Calleen Pardinas is serving as our project lead on this effort and she hopes you will email her anytime with your ideas and suggestions at cpardinas@vccf.org.
Of course, it is likely of no surprise to you that I absolutely love this time of year – a time of giving and service to others. Once again, I am reminded each day that Ventura County is a generous community! In the last two weeks, our clients have granted over $783,000 to dozens of local nonprofit organizations. Your collective passion inspires us and we are moved by the difference you are making – from supporting education, the environment, arts and music, to providing housing for families, and giving back to our community's veterans who so selflessly served our nation – we are so grateful to each of you!
Finally, I hope you will each help us reach out to the students in your life pursuing higher education and career training and let them know about the VCCF Scholarship Program. Because of the generosity of thousands of donors, this year, we are planning on awarding over $1.5 million to local students. Applications submitted by December 10 will be reviewed for accuracy and students will have an opportunity to correct any errors and resubmit their applications by the January deadline, when their applications will be reviewed by the VCCF Scholarship Selection Committee.
Thank you all so much,
My best to you,
Vanessa
Vanessa Bechtel, President & CEO
We've Rebranded! Meet Your Ventura County Community Foundation

Since 1987, VCCF has been building philanthropy in the Ventura County region, and beyond. We have served the community through safeguarding and advising of donor investments, working in collaborative partnerships with area nonprofits, and connecting resources with community needs for the greatest impact.
In our 34-year history, we have seen many iterations of this service communicated via our brand – logos, colors, statements, and other brand elements have all evolved along with the foundation. The choice to rebrand was seen as an opportunity to strengthen and clarify our identity – both internally and publicly – in order to expand our outreach to further generations of philanthropists and to create a deeper sense of belonging, inclusivity, and community.
Interview with Board Chair Sean Leonard
"The community is extremely generous and philanthropy is changing and thriving in Ventura County. I am very excited to be a part of facilitating that passion."
New Chair of the VCCF Board of Directors recently interviewed with VCCF's Lauren Graf about his new leadership position, his philanthropic journey, and his vision for VCCF and the future of Ventura County.
Coffee & Connections – Networking for Ventura County Nonprofit Professionals
VCCF and the Center for Nonprofit Leadership invite you to grab a cup of coffee and join us for Coffee & Connections! Coffee & Connections is a pilot networking program for nonprofit professionals designed to cultivate community-based, mutually beneficial relationships with one another around shared goals and shared missions.
These monthly virtual events will begin with brief orientations to Ventura County Community Foundation and the Center for Nonprofit Leadership, and move into facilitated conversations with local non-profits to share missions, chat about the challenges and successes, and provide a deeper understanding of our community and its needs.
Our first session will be held on Thursday, December 9 from 9 to 10:30 a.m. and will be a virtual, informational session to explain more about the format and goal of these events. Click the button below to register (forms available in both English and Spanish).
Dr. Cristina Miranda's Interview on VCCF Scholarships
Dr. Cristina Miranda speaks with Sandra Siepak about the Ventura County Community Foundation scholarship program.
VCCF's Scholarship Director Dr. Cristina Miranda was interviewed by Our Ventura TV about VCCF's scholarship program, currently accepting applications from all students within Ventura County until January 21, 2022. Cristina spoke about some of the different scholarships available for students from high school to law and medical students of all ages. If you are interested in applying for scholarships, joining a scholarship workshop, or giving back as a donor, watch the video or click the button below to visit our website.
Farmworker Household Assistance Program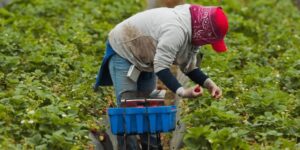 In March 2020, the Farmworker Household Assistance Program (FHAP) was formed to provide emergency relief to the thousands of farmworkers in Ventura County facing devastating economic hardship due to the COVID-19 pandemic. Through the generosity of donors and the hard work of the FHAP team, 3,465 struggling farmworker families received $1,000 cash grants in 2020. In 2021, over 187 farmworker families have received cash grants.
Click here to watch a video of the farmworkers whose lives and families have been directly supported thanks to your generosity. The farmworkers in the video share how this fund has supported them in everything from paying off Covid-related hospital bills to making rent to affording diapers for their children.
As the pandemic's devastation continues, farmworker hardships have deepened and increased as debts pile up and families become increasingly desperate. An additional 2,800 additional farmworker families have registered and qualified for financial assistance. With more requests coming in, we need your help more than ever! Please give what you can, as soon as you can. Every dollar makes a difference.
2021 State of the Region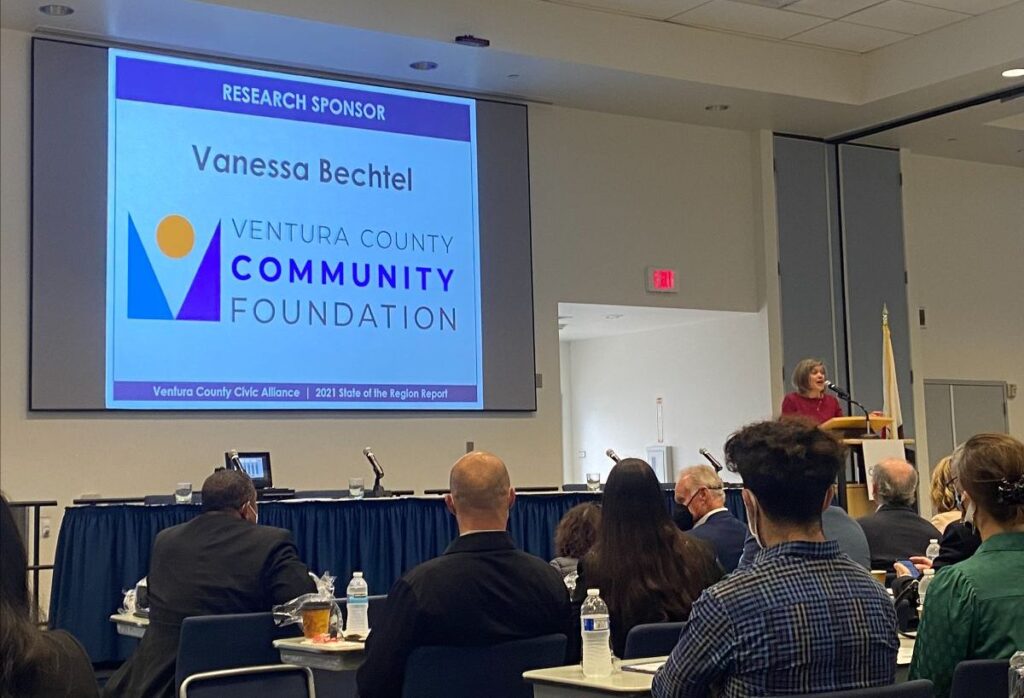 The 2021 State of the Region was released on November 15, providing statistical updates on topics such as Ventura County's jobs, education, tourism, agriculture, housing, and more. This year's report is particularly important given the impact of the Covid-19 pandemic on almost every aspect of local life, as well as an in-depth local health section that stands out from years past. VCCF was this year's leading research sponsor, and VCCF President and CEO Vanessa Bechtel spoke at the release event on the necessity of the census efforts in Ventura County to help bring together a significant study such as this.
VCCF would like to congratulate everyone who helped put together this year's study! If you are interested in obtaining a physical copy, please email Lauren Graf at lgraf@vccf.org, or you can request a free digital copy of the 2021 report from the Ventura County Civic Alliance at civicalliance.org.
Asm. Irwin & DA Nasarenko Announcing $1M in
Funding for Oxnard Family Justice Center
When Oxnard's victims of domestic violence and other causes of trauma seek help, many of them have to use public transportation to get to the Ventura County Family Justice Center in Ventura.
State funding of $1 million will help the justice center establish a satellite office in Oxnard, Assemblywoman Jacqui Irwin said at a presentation on Friday, November 5 at the center's office on 3170 Loma Vista Road in Ventura before a crowd of about 50 people.
Ventura County District Attorney Eric Nasarenko said of the 4,000 victims the justice center has assisted since its founding in January 2020, 38% were Oxnard residents. Furthermore, about a quarter of those victims only spoke Spanish or identified as Mixteco, Irwin said.
The justice center helps victims navigate the multiple resources and organizations available to them. Victims can seek help with gaining restraining, getting answers to questions about family law and seeking reimbursement for hospital bills, Nasarenko said. The justice center also can connect victims with therapy, counseling and intervention services.
VCCF Visits Ojai Valley Land Conservancy
and Greyfoot Cat Rescue Shelter
VCCF recently visited two local nonprofits focused on the environment and animal welfare, the Ojai Valley Land Conservancy and Greyfoot Cat Rescue Shelter. Impact Officer Alyssa Torkelson wrote about her experiences and what she learned during these site visits.
Veronica Quintana and Vanessa Bechtel Honored as Top 50 Businesswomen
Pacific Coast Business Times has nominated VCCF Board of Directors Treasurer Veronica Quintana and VCCF President & CEO Vanessa Bechtel for their 2021 Top 50 Women in Business list. The Business Times honors 50 of the region's top women leaders in a number of private employer sectors, including finance, professional services, CRE, health care, technology and nonprofits. To read the full list, click here. Congratulations, Vanessa and Veronica!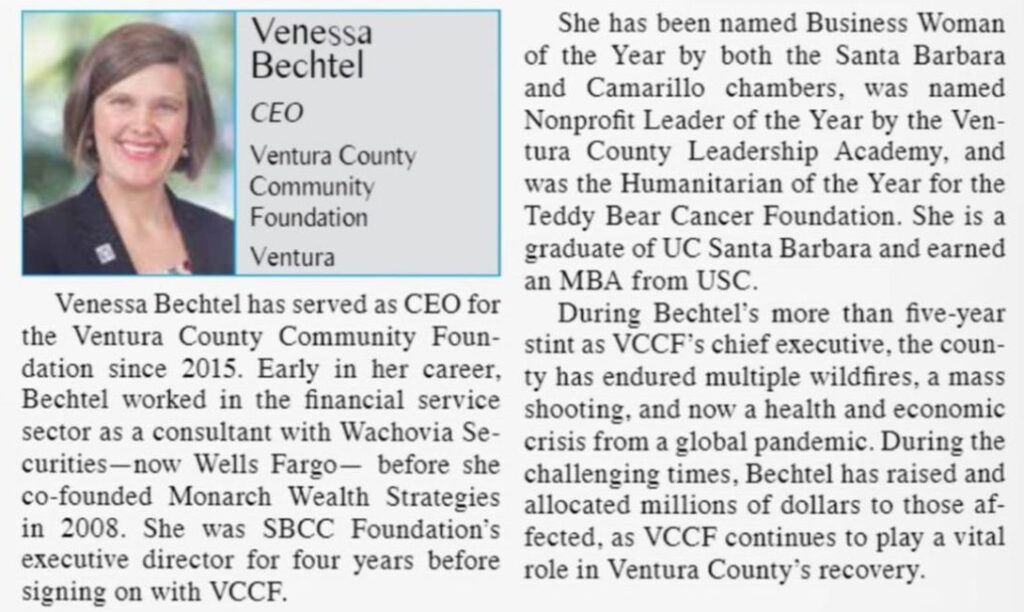 Power of Community
Good News from YOUR Ventura County Community
Remembering the Thomas, Woolsey, and Hill Fires

A Path to Recovery
When the Woolsey Fire hit East Ventura County in November of 2018, it burned just under 100,000 acres of land, destroyed 1,643 structures, and damaged hundreds of others. It left Lina, a widow and 27-year-resident of Ventura County, without a home at the age of 81. Although she suffered no injuries, Lina had a long recovery ahead of her, living in a hotel for a time, then renting a room from a friend while she worked out how to reconstruct her life.
With the help of her case manager, Lina appealed to FEMA nine times and was eventually able to receive some compensation, a stressful process that she says she would never been able to do without all the help. With the combined funds she received, Lina was able to purchase a manufactured home, and with VCCF's direct assistance she was able to resolve several important remaining needs. The financial support enabled her to build a ramp to help her get in and out of her new home. Lina was also able to buy an adjustable bed, which helps her back that was strained during the years she served as caregiver for her special needs child.
Though Lina has experienced many heartaches in her lifetime, she remains optimistic and happy. She loves to garden in her home and finds peace in making sure all her plants are prospering. Lina hopes to one day be able to say thank you personally if the opportunity should arise.