We've Rebranded! Meet Your Ventura County Community Foundation
Since 1987, the Ventura County Community Foundation (VCCF) has been building philanthropy in the Ventura County region, and beyond. We have served the community through safeguarding and advising of donor investments, working in collaborative partnerships with area nonprofits, and connecting resources with community needs for the greatest impact.
In our 34-year history, we have seen many iterations of this service communicated via our brand – logos, colors, statements, and other brand elements have all evolved along with the foundation. The choice to rebrand was seen as an opportunity to strengthen and clarify our identity – both internally and publicly – in order to expand our outreach to further generations of philanthropists and to create a deeper sense of belonging, inclusivity, and community.

OUR PROCESS
A year ago, we consulted with LOACOM, a locally-based marketing firm, to lead the rebranding process, and formed a rebranding committee composed of trusted staff, board members, and long-time donors of VCCF. With this team in place, we felt confident that we were well-equipped to explore, evaluate, and define our internal identity systems and create a cohesive, beautiful, and timeless new brand.
First, we set out to better express VCCF's purpose and core language, as defined by new mission, vision, and value statements. We looked at how these were supported by the roles and responsibilities of VCCF — the personas and brand archetypes which characterize VCCF. Lastly, we began a design ideation process to secure the new visual and external expression of the brand.
VCCF Board Member and chair of the effort, Meryl Chase, stated, "As a longtime resident of Ventura County, it has been such an honor to work with this talented and enthusiastic team. Throughout this collaborative process, we celebrated all that our community has made possible over the past decades through and with your community foundation – the Ventura County Community Foundation. This opportunity to reflect on our history and definitively reaffirm what we stand for has been deeply meaningful. I'm grateful to all who have been involved in this initiative."
VISION, MISSION, VALUES
A strong vision statement is future casting and describes the ultimate outcome we hope to achieve through our efforts. It is an ideal picture of what we imagine our community could become. VCCF's Vision statement reads:
We envision an engaged and thriving community inspired by growing generosity.
Our mission statement is how we put our purpose into action to manifest our vision for Ventura County. It describes, in a simple yet concrete way, what efforts the foundation makes to move our community forward. It is the core of what we do. VCCF's mission statement is:
Connecting people, resources, and solutions to create lasting impact in our shared world.
Finally, our core values define our beliefs and guide the behaviors of Ventura County Community Foundation. These principles steer our day-to-day decision-making and operations, and create a culture of trust and consistency in all our interactions. The following statements make up VCCF's core values:
Trust: We apply sound financial principles and invest wisely to steward the assets entrusted to us.
Transparency: We conduct our work with honesty, intentionality, and accountability.
Compassion: We bring empathy, respect, and heart to all of our interactions.
Equity: We listen to and elevate diverse voices and experiences to advance fair and just opportunities.
Tenacity: We respond to dynamic challenges strategically and with immediacy, persevering until sustainable success is achieved.
Excellence: We consistently invest in education, operations, technology, and our human capital to ensure the highest quality of service and support to our donor clients and those we serve.
Authentic Connection: We engage all partnerships with open collaboration and forthright communication, co-creating impactful solutions.
LOGO
As we moved into design exploration for new logo concepts, some key design needs surfaced:
To emphasize the feeling of community

A concept inspired by the diverse geography and expansiveness of Ventura County

To convey the message that Ventura County Community Foundation's commitment is everlasting

To create a design with a timeless yet modern aesthetic while remaining warm and approachable
After several design iterations, our committee selected a final concept that aligned with the design brief and our brand identity:




This dynamic new logo will bring visual strength and recognition to the Ventura County Community Foundation brand. The geographic brandmark accomplishes our goal for a modern, clean design that can easily be recognized, even when it stands alone. The composition of triangles and the center circle evokes images of the sun sitting between what can be interpreted as waves, mountain ranges, hills — drawing inspiration from our local geography without too literal an expression. The shapes also work well together to abstractly represent the shape of a person celebrating, giving, and/or receiving. The open and expansive quality reflects the broad range of Ventura County. Further, the deep V shape serves as a container and conveys a sense of the community being within. Lastly, the choice of colors creates a dynamic quality to the logo — moving from left to right, from light to dark, there is a sense of time passing as if from day to night, and back again. This is representative of the everlasting commitment of the foundation; we are here to stay forever, regardless of the passing of time.
We are a thought leader, convener, and partner to nonprofits, donors, and community leaders, who together help us make an impact on the issues we collectively care about most.
COLORS
Our approach to the color selection was to curate a palette that would convey both a sense of professionalism and approachability. The colors are both elevated and refined to reflect the foundation's fiduciary competence and responsibility, while balanced with warm, inclusive, and inviting tones.

BRAND PERSONA
Ventura County Community Foundation's brand identity is organized into three roles: Fiduciary, Funder, and Convener.
Using brand archetypal framing, each of these identities is defined by unique personas and characteristics that come together to form one unified brand voice.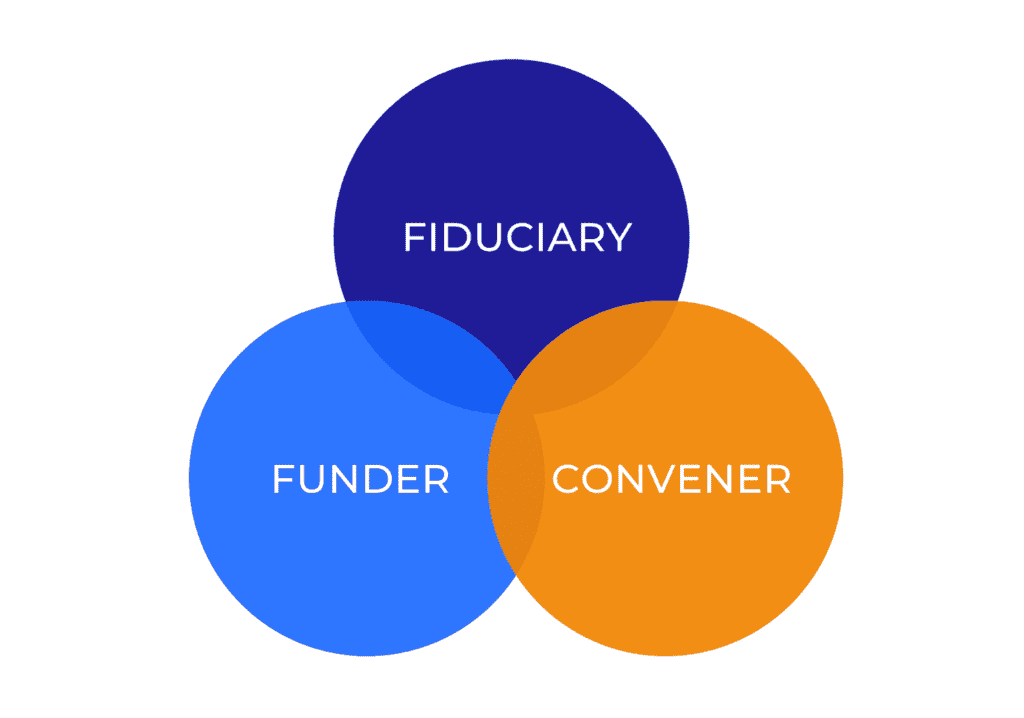 VCCF first and foremost plays the role of Fiduciary — safeguarding and advising donor investments that are designed for the greatest community impact.
The community foundation is a highly trusted and respected partner amongst nonprofits, donors, decision-makers, and the greater community.
VCCF also serves as a Funder (and fundraiser/responder), distributing funds to community organizations with the aligned purpose to better Ventura County and beyond.
In times of community crisis, the community foundation is always there — responsive, dependable, and solutions-oriented. In our capacity as Funder, VCCF is characterized by mastery of its skills, courage, strength, and above all, honesty.
At the same time, VCCF believes in innovative solutions and is bold in its approach to community needs. Creativity, non-conformity, and community collaboration are deeply valued.
In its tertiary role, VCCF is a Convener and connector of community.
Through the organization of events, initiatives, and various collaborations, the foundation brings people of diverse backgrounds together. As a community Convener, VCCF creates space for everyone at the table. We are willing to say what is hard and do what is right. Leadership, bravery, and progressive-thinking define this role.
This is balanced by a selfless desire to protect and care for others, especially those in need. Additional characterizations of this persona include service, altruism, compassion, patience, and empathy.
CONCLUSION
The various visual elements of the brand, paired with the strong core sense of identity and defined language, create a holistic brand identity. With thoughtful and consistent usage, VCCF will establish greater recognition and awareness for the issues and initiatives we are leading.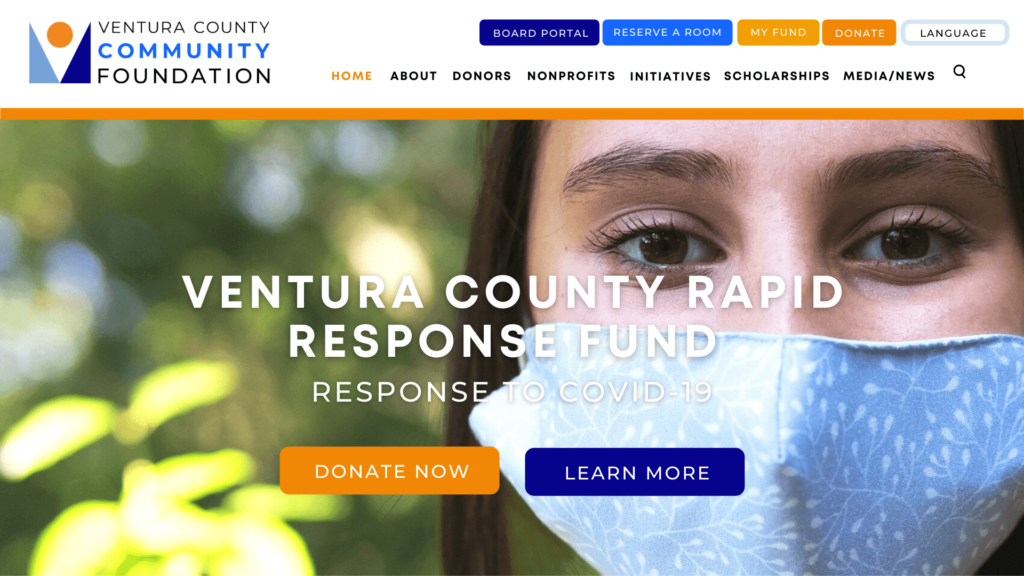 We are proud to launch a new visual identity that demonstrates who we are and what we value; one that will allow us to strengthen our outreach into the community and tell the story of Ventura County; one that honors where we have been and where we will move forward together.
Special thanks to VCCF leadership, staff, donors, Board of Directors, and our communication partners at LOACOM, all who lent their time, expertise, and enthusiasm to this process.