805Undocufund aims to expand disaster aid for immigrant communities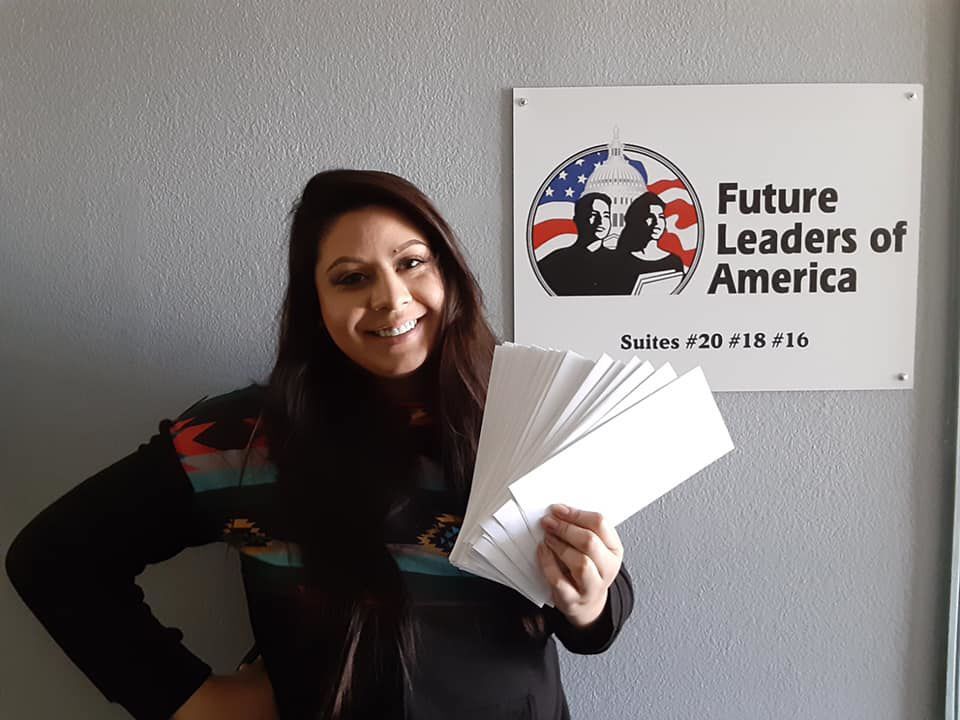 Quetzal Sanchez, Future Leaders of America administrative coordinator, prepares to distribute $1,200 COVID-19 relief checks in 2020 through the 805Undocufund.
Central Coast disaster relief organization 805Undocufund provided over $5 million in aid to undocumented residents during the pandemic. Now, new leadership want to expand the organization's work by helping immigrant communities prepare for future disasters.
The 805Undocufund board selected Ventura resident and longtime nonprofit and government professional Maria Melo for the role of executive director after launching the search for a potential candidate in July.
The fund, managed collectively by Future Leaders of America, the McCune Foundation, Central Coast Alliance United for A Sustainable Economy (CAUSE) and Mixteco Indigena Community Organization Project (MICOP), was created in 2018 to aid to those affected by the Thomas fire and Montecito mudslides, along with later disasters such as the Woolsey, Hill, Easy and Maria fires.
Organizers first opened the fund for COVID-19 relief fund applications in April 2020 and then again in January, distributing $1,200 checks totaling $5.1 million to Santa Barbara and Ventura county residents — including 1,882 Santa Barbara County households — whose documentation status bars them from other forms of state and federal aid.
Melo, who emigrated from Columbia and has led outreach and partnership work for the American Red Cross Los Angeles Region and Los Angeles LGBT Center, said there are several socioeconomic factors that put local immigrant communities at high risk during disasters like fires and the COVID-19 pandemic. The Undocufund's goal going forward is to work with the community to prepare for the next disaster before it happens.
"Fundraising is definitely the main priority … but the priority is also to be able to build the relationships with the community and also with the emergency management community," Melo said. "We have to focus on partnering with stakeholders and, really, why it's important to include the community in these conversations."
The organization is continuing to raise funds for future disasters, including ongoing impacts of the COVID-19 pandemic, through a partnership with the Ventura County Community Foundation. Around 1,300 Central Coast residents remained on the waitlist for COVID-19 relief funds as of this summer, totaling a need of around $1.8 million.
There are an estimated 2.3 million undocumented immigrants living in California as of 2019. Around 66,450 Santa Barbara County residents are estimated to be undocumented, according to American Community Survey data.
Melo said the organization also will be analyzing the lessons learned in its response to various disasters since 2018 to better inform its future response and create more county- and city-level partnerships.
"I think as we look more carefully at the lessons learned and crunch down the numbers … we'll have to figure out what are those specific city level partners we should work with? I do want to share the great work that we've done so far, and figure out how we can leverage it to make changes," Melo said.
Genevieve Flores-Haro, board chair of 805 UndocuFund and associate director of MICOP, said Melo's background and experience will allow the organization to continue providing aid to undocumented immigrants in the region.
"Since its creation in 2018, the 805UndocuFund has not only distributed over $8.3 million to 6,147 families but has also become a trusted and familiar source of support for the immigrant community when disaster hits," Flores-Haro said. "That is why we are thrilled to welcome Maria to move this work forward."
To make a donation to the 805Undocufund, visit vccf.org/donate/805-undocufund-donation and select 805Undocufund Disaster Response and General Support. Residents can also choose to donate funds toward specific causes like COVID-19 vaccine outreach or the Farmworker Household Assistance Program in Ventura.
This story was originally published in the Santa Maria Times.