VCCF Donor Spotlight: Interview with Kerry and Stacy Roscoe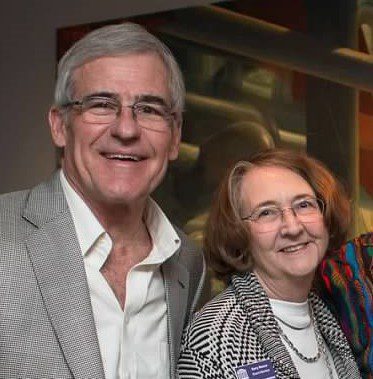 by Lauren Graf
VCCF donor clients Kerry and Stacy Roscoe are two of VCCF's most active community members in addition to their philanthropy, from Stacy's 10 years of service on the VCCF Board of Directors, to Kerry's passionate volunteering as a VCCF Scholarship Reader. The two have been engaged with VCCF for so long that neither can quite remember the exact catalyst that led to their joining, but both have several stories of friends and mentors connected with the foundation urging them to participate.
Stacy and Kerry have been married for 51 years and have two daughters, living in Ventura County since 1975. Stacy worked at Procter & Gamble in Oxnard for 30 years, and one of his duties included public relations with community organizations. Through his support and service of these groups, he learned about their needs and missions, and even after retirement has continued to give back to his community through philanthropy and volunteering. While Kerry was running her design business for over 20 years, she was also involved with local nonprofits such as the Ventura County Economic Development Association and the New West Symphony League's "Design House" fundraisers.
Education has always been fundamental to Kerry and Stacy, and the two are longtime supporters of the VCCF Scholarship Program. Kerry has been one of the program's most fervent volunteers since 1996.
"I'm quoted as saying I've read 1,100 scholarship application assessments in my biggest year. I'm only reading 437 this year (laughs)," Kerry said.
They attribute their eager support of VCCF as both donors and volunteers to the foundation's local focus in its nonprofit work, its wide scope in causes supported and authentic connections with community members.
"When you see these different organizations and what they're trying to do and how the money is helping, it really makes sense and gives you a special insight into Ventura County, and what the needs are," Stacy said.
Kerry added, "And you can see the benefits over time when you're investing in your community. You see how it makes a difference, and we're all in this together!"
What sparked your passion to support equity and inclusion in education?
K – I think having always been involved in education one way or the other. When our oldest daughter was at Notre Dame, she had a teaching assignment at one of the poorest schools in South Bend. We would visit her, and it was a wonderful teacher mentoring her, great classroom atmosphere, but you saw how much they needed. The inequities in funding and educational support were there. She ended up teaching in San Diego and in Fillmore. She had the kindergarten classroom after the Northridge earthquake baby boom, and no one in her class had had preschool. They were already behind the ball of education, so seeing the need, we were very fortunate. We had educations; our kids had educations. What that affords you, not just materially but in terms of time with family and quality of life, it's important to make these things available to all kids.
Do you have a favorite story related to giving back to your community?
S – My favorite story goes back to the VCCF Nonprofit Center. On a pro bono basis, I said I can do some work on this, because I have a real estate portfolio and a lot of the work I do since retirement has been dealing with my real estate interest. So I spent over a year dealing with the location to find out where we wanted it to be, and also find the right building in that location to start with, and to get the building purchased, to get a construction permit here and manage the construction and lease it with the right rents to attract the nonprofit community. It was everything I loved in terms of doing deals and pulling together a badly needed operation in having all these components. I was on cloud nine, and again I didn't get paid a dime, and it was one of the most valuable experiences I've had in terms of helping out the nonprofit community here in Ventura County.
K – Some of the people you worked with, they're now involved with VCCF.
S – Sean Leonard (current VCCF Board Chair). We got him as the owner's representative. Once we got done with this, and it was such a great job, I sent Sean to talk to Casa Pacifica, who was doing some building, and they loved him.
K – He's on the Board of Casa Pacifica!
S – And now he's back at VCCF. One relationship builds another.
K – One of my favorite stories focuses on the fruits of what you put out there coming together in a way that continues helping your community. We have scholarship funds at Notre Dame, and there was a young man from Oxnard. His family worked in agriculture, and he got one of our scholarships, and he went to Notre Dame, thrived at Notre Dame, entered their ACE program (Alliance for Catholic Education) so he was then able to teach and get his credentials. Then he had his masters and PhD from Notre Dame. He is overseeing the entire diocese school system for a major northwest city. To see this shy, young boy we first met at student send-off, to see in a year the level of maturity and independence he had achieved, and then to see it over these decades play out in such a fantastic way, and that feeds the need for scholarship support for students, and it's so exciting! They have their whole lives ahead of them.
S – We vicariously adopt a number of people, 'cause our kids are gone and so there's an extra warmth to be able to really associate with these people and these types of stories Kerry reads.
K – And be there as a resource, especially for first gen students who don't have parents who have been through it to go to and ask their advice on college or employment, to be there and they come and ask the questions. You don't just give them a scholarship; you gotta support them all the way through their education.
Who or what inspires your philanthropy?
S – Casa Pacifica. I'm a 15-year board member, three-year chairman of the board. There's no cause greater than the work of Casa Pacifica, when you have these neglected, abused children who need all the help they can get. The inspiration comes from the incredible staff or the volunteers, who share their time and efforts for these kids. The staff is nothing but Mother Theresa's; some of them are bringing people home on different outings, taking them under their wings. The kids have long-term connections made with a number of the staff that have helped them get through their traumas. I walk out thinking, "If only I can be so generous, only half as generous as the people." Because they set a high bar. It keeps in the back of my mind, 'cause if I really want to be successful in terms of philanthropy, this is the bar I need to aim for.
K – When I read the scholarship applications, that inspires me. Those students are doing so much, some of whom have so little, sometimes face discouragement from their family, are focused and doing everything society expects them to do, and they are doing it fabulously. I get goosebumps thinking about that. We'll be okay as a society if those kids are supported, because they're the ones that understand about giving back. Keeps me coming back year after year. The year I first read, we only had $35,000 to give away. It was heartbreaking to turn these kids down. I came home and cried for years. And one year, there was one kid at the end who everybody thought needed a scholarship. He hadn't made it in any category, and we were sitting around the table going, "Pass the hat, everybody give 100 bucks, and let's give this kid a scholarship!" And that was the seed for having a fund specifically for VCCF that wasn't necessarily a specific donor.
Do you have any advice for anyone who wants to give back?
S – Being an engineer by background, I believe in systems, and philanthropy is no different. Build on your own skill and interest, the things you know how to do and love doing, and deliver measurable results. There's nothing greater than having a big project go through and to know it took my skills, my interest, to get results I can be proud of.
K – Finding something you're passionate about in which you can deploy those skills is important. What feeds your soul, what tugs at your heartstrings? That will make it worthwhile when you put the time and energy and your skillset in there.